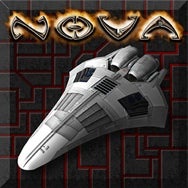 I don't care what people say about gravity, the strong nuclear force, or love—nostalgia is by far the most powerful thing in the entire universe. There is no other way to explain my glee that Ambrosia has released a Universal version of their classic game EV Nova. The third game in the acclaimed Escape Velocity series, EV Nova cast as you a spaceship captain working your way up through the galactic ranks.
You must understand: I love Escape Velocity. I love it like few other games that I've ever had for my Mac. I remember playing the first game on my Performa 5300CD (aka the worst Mac ever). Heck, I remember when my monitor broke and would no longer show red which, let me tell you, made it tricky to avoid the then invisible laser blasts.
EV Nova has a special place in my heart though, since it's the game my roommate and I spent hours playing in our senior year of college, complete with complicated spreadsheets that would let us keep track of the best commodity rates around the galaxy.
Yeah, we didn't go out much.
Anyway, I'm pretty psyched about the Universal release (I realize that the game was already OS X compatible, but who wants to deal with that Rosetta junk, right?). Even more exciting was the fact that Ambrosia's lost license service managed to dig up my code for the game (thankfully, it was associated with the only old email address I still have access to). And let me tell you: it looks sweet on my aluminum MacBook.
EV Nova 1.1.0 also gets a few bug fixes and enhancements, and improved compatibility with the MacBook and MacBook Airs with GMA X3100 video cards. Now, if only I could find my old save files…