Some day very soon, all of us are going to have to sit down and figure out just what constitutes the perfect iPhone app. I mean, setting aside such trivialities like what genre an app belongs to or how much it costs, we can certainly agree that there are certain attributes that set apart an ideal iPhone app from some of the more standard fare that litters the App Store. Can't we?
For starters, the app would need to be designed specifically for the iPhone—there's no room for half-hearted ports in our pantheon of great iPhone apps. And that app would also have to take advantage of the things that make Apple's mobile devices special—that means exploiting the touch screen, the accelerometer, the whole ball of wax. The graphics would have to measure up, of course, and the sound would have to be superb. Finally, the perfect app would be simple to use—you should be able to tap it and get down to business without too much reflecting about what it was exactly that the developer had in mind when the app was still on the drawing board.
I'm not sure that the perfect iPhone app exists just yet. But the above paragraph comes perilously close to describing Rolando, the alarmingly addictive iPhone and iPod touch game from app-making powerhouse Ngmoco.
Read more…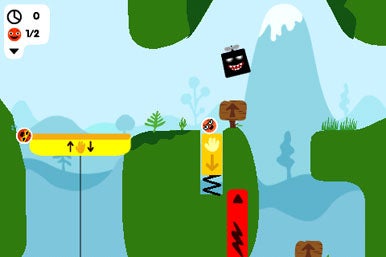 In many ways, Rolando is a classic side-scrolling platform game, in which you move your pieces from Point A to Point B, overcoming obstacles, gathering up items, and avoiding menacing bad guys as you try to reach the finish line. Knock off one level, and you move on to the next challenge.
In the case of Rolando, that means you're responsible for the safety of the Rolandos, little round guys who just want to roll around, jump, and otherwise enjoy the verdant splendor of Rolandoland. Unfortunately, their gambols have been interrupted by invading Shadow creatures—sinister dark boxes whose very touch proves deadly to Rolandos. Your mission is to roll and jump the Rolandos to safety, picking up gems and rescuing drowsy members of the Rolandoland royal family along the way, all while avoiding Shadow Boxes that lumber, fly, and otherwise impede your path.
Fortunately, you have a whole arsenal of finger commands and the iPhone's built-in accelerometer at your disposal. You can tap on a particular Rolando to control it (or better still, use your finger to draw a box around multiple Rolandos to control all of them at once). Tilting your iPhone or iPod touch causes the Rolandos to roll in that direction. (Except for the decadent members of the Rolando Royal Family, apparently — the King Rolando must be shoved around by other Rolandos, and the Prince Rolando ping-pongs back and forth every time he hits an object, amping up the difficulty of solving levels when royalty is involved.) Drag a finger upwards, and the selected Rolandos will jump. You'll also come across assorted buttons, wheels, elevators, and other doodads, that you can press, drag, or push with a finger to help your Rolandos reach their final destination.
Because Rolandos are usually scattered throughout a given level, you're not bound to only pay attention to the balls you have in your sights. Tiny icons let you know where other Rolandos are scattered on the screen; tap one, and you'll jump to that area. Or you can always use two fingers to drag yourself to a new part of the level so that you can get the lay of the land.
You get points for each Rolando you deliver to safety as well as any diamonds you happen to pick up along the way. You score bonus points if you can complete a level in the allotted time limit (though you suffer no penalty if you go over time). In a week's worth of playing Rolando, I have never delivered any of the Rolandos to safety in time to receive a bonus—not even close. I imagine that this is because I am terrifically unskilled.
The only time you suffer any sort of consequences in Rolando is when you've gotten enough of your Rolandos killed—either by the cruel hand of the Shadow creatures or by driving them into some equally deadly obstacle—so that you're unable to complete the level. Even then, the game lets you start from the beginning of that level—or a balloon-festooned checkpoint if there's one of those—instead of hurling you back to square one. Completing a level opens up new ones—there's 36 in all, spread across four lands (which unfold in map form whenever you launch the game). So things never get too old.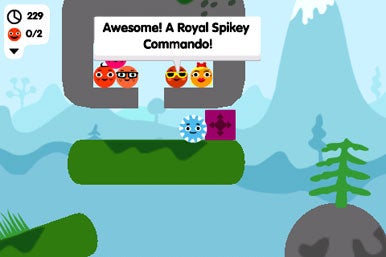 Gameplay is challenging without being frustrating. It took me several tries to get past the Mount Rollmore stage in Honeycup Meadows, but when I finally did, the satisfaction equaled most every professional achievement I've tallied in my working career. Ngmoco includes helpful tutorials in each stage, with tips on how to bend the Rolandos' movements to your will. Even better, you can opt to skip these tutorials if, like me, you find yourself repeating a stage frequently enough to commit the dialogue to memory.
We also tested Rolando with the seven-year-old daughter of one of Macworld's editors. The game's music and visual style—those Rolandos are just so cute—wowed her, and she got the hang of controlling the Rolandos almost immediately. But the levels require enough problem-solving ability that really young kids won't be able to do much more than watch their Rolandos bop around aimlessly.
In some ways, Rolando is just about the perfect casual game. If you're interrupted in the middle of a game, just hit the iPhone's button and your exact place will be saved. (A little number will even appear by the Rolando icon on your home screen reminding you just how many Rolandos you still have alive.) I was on the subway headed home from work, trying to figure my way through Altitude Adventure when I noticed I was about to miss my stop—by hitting the home button I was able to save my exact place in the game without losing a single Rolando to those hideous Shadow creatures.
The music that accompanies Rolando is peppy without being annoying. The sound effects are clever, and the game is filled with the sort of little touches that are rapidly becoming the hallmark of Ngmoco games. As with Topple, another Ngmoco offering where the expressions on the playing pieces reflect the action taking places, the Rolandos become visibly nervous if they get to close to the shadow creatures. They grimace when you have them exert themselves. And they look bored if you spend too much time concentrating on other pieces.
The game is not without its flaws. I find the Royal Spikey Commandos—Rolandos who can stick to and climb up walls—a little difficult to control. And sometimes when I'm swiping my thumb upwards to make a Rolando jump, I inadvertently activate another Rolando. This could just be my special burden—I am notoriously ham-handed—but I suspect other players might share my occasional frustration.
Still, it's clear after just a few minutes playing around with Rolando, that Ngmoco has clearly thought through this game and how to make the most out of the iPhone's unique features. Even at a premium price, Rolando is a must-have game and a stellar example of what you can do with the iPhone platform if you just put your mind to it.
Rolando is compatible with any iPhone or iPod touch running the iPhone 2.1 software update. (Buy it on the App Store.)
[Macworld.com executive editor Philip Michaels weeps copiously any time one of his Rolandos buys the farm. Which is to say, he weeps a lot.]