I don't know about you, but I like to listen to background music while I work. It drowns out ambient chatter, helps me focus on the task at hand, and really eliminates any distractions that might cause me to lose focus. Trouble is, when a song I like comes on via iTunes' shuffle mode—or worse, when a song I hate comes on. Suddenly, I'm either singing along or diving for the iTunes fast-forward button—in other words, not focusing on the task at hand.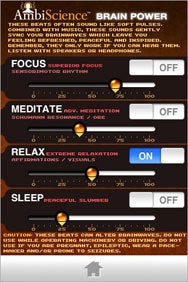 Tesla Audio Sciences figures to have a solution with AmbiScience , a $1 app that recently joined the ranks of other ambient music offerings at the App Store. The difference with AmbiScience, according to Tesla Audio Sciences, is the app's BrainWave Entrainment feature, which promises to "sync your mind" and thereby enabling you to focus, relax, sleep, or meditate without distractions.
The app boasts 9 CD-quality tracks. As you might imagine, it's a little larger than your typical App Store downloads, weighing in at 136MB.
The developer promises future updates will deliver enhanced volume controls and a timer fade. In the meantime, AmbiScience runs on any iPhone or iPod touch with the iPhone 2.2 software installed. And if you'd like to try things out for free, there's a free lite version of AmbiScience, as well.
Other apps of interest that were recently added or updated at the App Store include:
Read more…
Got an app you've just released to the App Store? Drop us a line.
Updated at 8:46 p.m. PT to fix a misspelling of the word "entrainment" in describing the features of AmbiScience.