At a Glance
Expert's Rating
Pros
Attractive, Mac-matching design
Excellent sound quality
Built-in DAC for USB audio
Sync/Audio setting lets you easily switch between iPod-audio and iPod-sync modes
Can listen to multiple audio sources simultaneously
Cons
Basic remote
No visible volume level
No headphone jack
IPod audio considerably louder than USB audio if both are playing at the same time
Our Verdict
Back in 2005, I reviewed the iCub, the first "digital lifestyle" product from French audiophile company Focal-JMlab. It was a unique product with excellent performance and great design. Its biggest drawback, for many people, was that it was too general in its focus: Rather than a dedicated iPod or computer speaker system, it was a subwoofer, an amplifier, and a digital-to-analog converter (DAC) in a compact package that you could use in many configurations. The price—$750 without satellite speakers—also put it out of reach of many consumers.
Focal's follow-up to the iCub is the $599 Focal XS, and while it's still not inexpensive, it's nevertheless a more affordable and a more focused product, offering a Mac-centric design along with features specifically designed for iPods and computers.
iMac inspired
It's obvious that the XS's design was inspired by the look of Apple's current iMac. The two satellite speakers each feature a weighted base finished in glossy black; an angled, brushed-metal stand that echoes those on the iMac and Apple's Cinema Displays; and a black enclosure with aluminum trim and a black-mesh grille. Similarly, the subwoofer enclosure is matte black with aluminum trim and a glossy-black face. Taken as a whole, the XS is one of the more attractive computer or iPod speaker systems I've seen, and few look as good next to Apple's current hardware.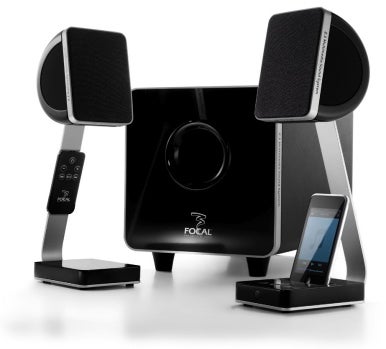 Each of the XS's satellites, derived from Focal's Solo6 monitors, is 4.75 inches tall, 3.6 inches wide, and 3.4 inches deep and hosts a 3-inch midrange driver and a 0.75-inch tweeter. (Including the stand, the total height of each satellite is 12.8 inches.) The satellites connect to the subwoofer via 5.5-foot, thick, cloth-covered cables.
The right-hand satellite's base features an iPod dock using Apple's Universal design; eight dock adapters are included for older iPods. (Newer iPods and both iPhone models ship with their own dock adapters.) Although the system isn't officially "Made for iPhone," in my testing both iPhone models worked well except for audible interference when the original iPhone accessed the EDGE network.
In front of the dock cradle are power and volume buttons, and on the back of the base are an auxiliary-input minijack (for connecting another analog source), a USB port, and a Sync/Audio switch (more on the latter two features below). Although a white, backlit ring around the power button blinks when you change the volume, there's no visible volume level. Also missing is a headphone jack.
The XS's subwoofer is fairly compact at just 10.2 inches tall, 9.1 inches wide, and 13.75 inches deep (16 inches deep if you include the necessary clearance for cables in the back). It hosts a 6.5-inch speaker driver, as well as a 70-Watt amplifier for the sub, two 30-Watt amps (one for each satellite), and a DAC—a Burr Brown model, for the audio geeks out there—for converting your computer's USB audio to an analog signal. On the back of the sub are the two speaker connectors, a power-cable jack, a power switch, and a dial for setting the subwoofer level.
Simple setup
The XS is easy to set up. Each of the two speaker cables fits into only one of the two jacks on the subwoofer, so you can't accidentally mix up the left and right channels. Focal includes the necessary USB cable for connecting your computer to the system; once you do, you just go to the Sound pane of System Preferences and select FOCAL XS in the Output screen. (Your Mac's volume buttons control the level of audio going from your computer to the XS.) Focal also includes a stereo miniplug cable for connecting another audio source; for example, a TV or another media player.
As with most iPod speaker systems, you simply put your player in the dock cradle and press play to listen. However, because the XS connects to your computer via USB, the dock cradle can also be used to sync your iPod with iTunes. And unlike many other speaker systems that include a data connection, the XS provides a way for you to decide whether your docked iPod should play music or sync: the aforementioned Sync/Audio switch. When the switch is set to Audio, you can listen to your iPod's music; when set to Sync, your iPod goes into sync mode and shows up in iTunes on your Mac. (If you're using the XS as a computer speaker, Sync mode automatically switches your Mac's audio output to the Mac's own speaker; once you shift back to Audio mode, your Mac's audio automatically switches back to the XS.) In either mode, Sync or Audio, your iPod is charged while in the dock cradle.
This Sync/Audio switch is a useful feature that too few systems provide; you don't even have to remove your iPod from the cradle when changing modes. However, the feature would have been even more convenient if the switch were located in the front or on the top of the speaker base; I found the switch to be awkward to reach given its placement on the back of the base.
Another nice feature is that all three possible audio sources—iPod, USB, and auxiliary—are mixed together, so you don't have to swap cables or flip switches whenever you want to listen to a different source. It also means you can hear your computer's alerts and other audio while listening to your iPod. However, in my testing, audio from a docked iPod drowned out my Mac's audio—set to full volume—when both were playing. (iPod audio level cannot be adjusted, as the XS gets line-level audio from the iPod's dock-connector port.)
Xcellent Sound
You'd hope that a $600 iPod speaker system would sound good, and the XS doesn't disappoint in this category, performing more like a small home stereo than a set of "computer" speakers. Audio is balanced, with very good—and quite neutral—treble detail and midrange, as well as solid bass response down to around 70Hz. (There's a slight dip in response between 120Hz and 100Hz, which I'm assuming to be roughly the system's crossover frequency—where the audio signal is split between the satellites and the subwoofer.) At lower volumes, the bass isn't especially powerful, but it's tight and balanced with the rest of the audio spectrum. At louder volumes, however, you'll want to set the subwoofer's bass level carefully, based on your listening area, to avoid boominess. There are no other tone controls.
Stereo separation and imaging are likewise excellent, in part due to the ability to put up to 11 feet of space between the left and right satellites. And unlike many of the larger iPod/computer speakers I've tested, the XS sounds very good both from across the room and while sitting at your desk. Overall, it's one of the best-performing iPod/computer speaker systems I've tested.
It's also worth noting that the XS is designed to be relatively green: When in standby mode, it uses less than 2W of power.
On the other hand, the included remote is quite basic, including only power, volume, play/pause, back, and forward functions, and using "bubble"-style buttons that provide little tactile feedback. While I liked the internal magnet that's just strong enough to let you store the remote on either satellite stand, I found the remote's infrared signal to be on the weak side: The remote worked adequately from across a room, but if I moved too far to the left or right of the sensor (located on the front of the right-hand satellite's base), reception suffered.
Macworld's buying advice
The XS costs quite a bit more than most iPod/computer speakers out there, but it's an excellent aesthetic match for Apple's current hardware; provides some of the best audio you'll get from a set of computer speakers; and, by letting you listen to your Mac's digital-audio signal, your iPod or iPhone, and another audio source, is also very versatile. If you'd like something that looks and sounds great at your desk or from across the room, this is an impressive system. Indeed, it's one of our favorite iPod accessories of 2008.