Sometimes chatting with your friends and colleagues on the Internet can feel like tracking down a great diaspora across continents and seas, with one person logging on at AIM, while another prefers GTalk, and a third refuses to touch anything other than ICQ. While programs such as Adium have long since resolved this problem on the desktop by allowing users to fire up one app and access multiple platforms, the iPhone is still new enough that these issues are just getting shaken out. Fring from Fringland is one of several apps attempting to resolve this, and better yet, it's also one of a handful of providers bringing VoIP to the iPhone. To date, it does both with mixed results.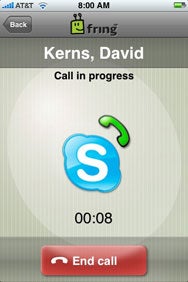 Fring integrates your buddy lists from various chat and communications platforms into one interface. Currently, Fring supports accounts on Skype, MSN Messenger, ICQ, Twitter, Google Talk, Yahoo Messenger, AIM, while offering SIP support for a variety of VoIP providers as well. But it periodically adds new services based largely on user feedback, so if your preferred chat client isn't supported today, check back tomorrow.
Read more…
Setup is delightfully easy. Simply choose which networks you have accounts in, enter your username and password, and Fring will automatically log you in and add your buddies to its list. Once you've set your platform logins up, all of your contacts in all your networks show up in a unified buddy list. Additionally, Fring pulls data from your address book, so if you want to hit up a friend who isn't listed as a buddy, you can easily do so.
My main quibbles revolve around the way Fring manages chat contacts. The buddy list could use a grouping feature to separate buddies by platform (AIM, GTalk, Yahoo) or into user-defined groups (friends, family, coworkers). If you have very many chat contacts, the buddy list can be burdensomely long. While a search feature makes it easy to pull up individual contacts, for the sake of browsing we'd prefer groupings. One other drawback is that it isn't possible to go on or offline on separate accounts. Rather, Fring automatically logs in to all of your chat accounts and if you want to remain offline on a particular platform, you have to "unsubscribe" which completely removes the account. This becomes an issue if, for example, you use your AIM account for work and your Google Talk account for personal communications. Perhaps you don't want your boss to see you pop online for a few minutes if you're on vacation, or you don't want your friends bothering you if you're trying to work. With Fring, you're either online, or offline: You can't set your status to busy, "invisible" or even set a custom status message such as "work only please." It's a relatively minor inconvenience, but I'd prefer to have an option to log onto accounts individually and take more control over our online status.
But why chat when you can talk? Thanks to the Skype (and SIP) integration, Fring lets you make voice calls to anyone with a phone. Punch up an address book contact (making sure to use the country code and + prefix) in the app's Dialer and you can use your existing Skype account, or one of several accounts via SIP, to make calls.
One issue to consider, though I don't consider it a negative by any means, is that Fring requires a Wi-Fi connection to make calls. You can't connect via an over the air signal, be it Edge or 3G, so this isn't an app that you'll have good luck with in the field. For use at home or the office, however, it works relatively well. If you don't have that many minutes in your plan, it might save you some money. If you plan on doing any International traveling, where both voice and data rates on the iPhone are Trump-level expensive, Fring can save you a small fortune in phone bills. And of course, for iPod touch users, it's a transformational program.
Yet Fring has two major drawbacks when it comes to VoIP, and both are doozies: quality and reliability. Testing calls back-to-back against a desktop version of Skype running on the same Wi-Fi network, I found that call clarity suffered noticeably on the handset. Fring was much more likely to sound digital, with more distortion and "stuttering" due to latency than when I called the same numbers over the same network connection using Skype and a headset.
A secondary issue is dropped calls. If you're on a Fring call, when another call comes in over the air, Fring drops the first call. This may be beyond Fring's control, as Apple doesn't allow background processing, but it's an annoyance. And while I experienced very few problems connecting to Skype, though it does require a solid Wi-Fi connection, many App Store reviewers have noted that they were not able to reliably connect, although the latest update seems to have resolved this issue somewhat. (We also suspect some of this is due to user error—for example by not my the +1 prefix to dial numbers within the United States.) Quite frankly, in our opinion, given that it's a free app, that allows you to make free calls, often using a free Wi-Fi network, the dropped calls were worth the effort: you get what you pay for.
In short, Fring is a good app, with a few notable drawbacks that are barriers to greatness. It's worth mentioning that since I began using it, Fring has improved quite a bit. I hope to see a 2.0 release that resolves issues around buddy list organization and logins and improves call quality and performance issues.
Fring is compatible with any iPhone or iPod touch running the iPhone 2.x software update.
[Mathew Honan is a former Macworld associate editor, and a contributing editor at Wired magazine. Follow him via Twitter.]