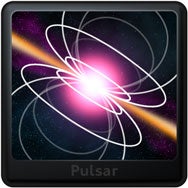 Rogue Amoeba Software on Friday released a Public Preview version of Pulsar, its new software for listening to streaming XM and Sirius Internet radio stations. Users can download and run the Public Preview (which requires OS X 10.5 or later) for free, although audio quality is degraded after 20 minutes of listening. Buying a license for $15 (which will work for the final version) removes the limitation. Rogue Amoeba is also offering a free license to anyone who owns or purchases its Airfoil for Mac 3, Audio Hijack Pro 2, Fission, Nicecast, or Radioshift products.
To use the software, you need to subscribe to XM Radio Online, Sirius Internet Radio, or both (although the two companies merged in July 2008 to form Sirius XM Radio, they still operate separate streaming services) . Each service offer more than 80 commercial-free online channels, which you can also listen to via each company's Web site. XM Radio Online costs $8 per month (free with an XM Satellite Radio monthly subscription that costs $13 or more) and Sirius Internet Radio costs $13 per month ($3 if you subscribe to a Sirius Satellite Radio package that costs $12 or more). Each service offers free three-day trials (you only need to provide a name and e-mail address, not a credit card).
When you launch Pulsar, you're greeted with the Accounts Assistant window, where you can click on the XM or Sirius buttons to enter your e-mail address and password for those services (if you have accounts with both, you'll need to open the Accounts Assistant again to enter the information for the second account, since the window closes after the first one). Once set up, you'll see all the available stations in Logo or Compact view. Both show station names, descriptions, and the currently playing songs, artists, and genres. Logo view also shows the station logos, which take up more room and allow for fewer stations listed in the same window space.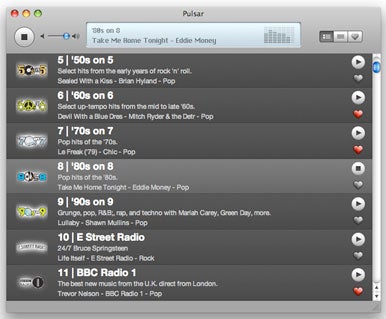 Next to each station is a play button and a heart button. Clicking on a play button begins buffering and then playing a stream (and changes the button to a stop button). Clicking on a heart button turns the heart red and adds the station your favorites (accessible from the Favorites view). You can switch among views from the Window menu, using keyboard shortcuts, or by clicking on iTunes-like icons in the upper right corner of the Pulsar window. Next to the icons are the playback area with the name of the station, the artist and track title playing, and a seven-band output meter. To the left of the those are a volume slider and play/stop button.
In a spot check of several stations, I found the audio quality to be comparable to other Internet radio stations. Buffering times varied greatly, even for the same station. And Pulsar was sometimes slow to catch up with displaying the currently-playing song on several occasions (the artist and song listed on the station and in the playback area didn't always match up with each other, for example). Overall, Pulsar's clean, iTunes-like interface was much nicer to work with than the respective services' Web players.