Editor's Note: The following is reprinted from the Casual Friday blog at PCWorld.com.
Nintendo, Sony: Let's talk for a sec—just you and me. Look, guys, over the past couple of years, you've had a great run. Nintendo, your DS has tons of games, a wide variety of unique stuff that's a blast to play. Sony, your PSP is a gadget-lover's gaming tool, with everything from Skype to Internet-radio support (oh, yeah, and you have some cool games, as well). But unless you both do something in 2009, the iPhone and iPod Touch will soon become the top dogs in handheld gaming.
Apple, the same folks who have pretty much ignored games since I played Marathon on a Mac, came on strong in 2008—and now Nintendo and Sony must consider the iPhone a legit competitor. The proof: Apple's iPhone/iPod touch games start at a buck (going up as high as $10), and games have flooded Apple's App Store since it opened its digital doors in July.
Nobody at either company has asked, but here's my free advice.
Nintendo: Get that new DSi to the United States, on the double! The bigger screens and the 256MB of memory are a good start, but we need to see a Wiiware-style channel where people can easily download DS games directly onto their handheld no matter where they are, stat! Also, while I'm mentioning it, set it up so that we can run said downloaded games directly from SD Card. Another quick thought: Don't try to out-iPhone the iPhone. If you're going to build in MP3 functionality, maybe you should at least support the MP3 file format. (AAC only? Really?)
Sony: Admit that UMDs need to be thrown down a hole with all those Betamax machines. The UMD optical drive sucks power and doesn't deliver high-capacity storage compared with what even cheap flash memory cards now offer. You're better off bundling a streamlined system with a hard drive. Want to sell people games at a store? Sell them on Memory Sticks—as you probably should've done in the first place. Or take further advantage of the online store, which has already done a bang-up job offering PSP games as digital downloads.
The PSP has had a tough fight against the Nintendo DS since its launch. That said, as a gadget-head, I love all the connectivity features that sync up the PSP with the PlayStation 3. If Sony can create more games and applications that tether the two devices together, you might still make a case for PSP owners.
Both: The best advice I can give to both Nintendo and Sony is to remember your roots. I did a story a couple months back celebrating the indie community that has rallied around the R4 cartridge as a legitimate homebrew gaming tool. That same group is always looking for new ways to mod the PSP, as well. These dedicated coders do it simply for the love of games (or to build their resume for getting into the gaming biz). Open up the doors, and let people who want to make all sorts of apps release them into the wild. You want to vet them for quality control? Go right ahead.
Way I see it, Apple has the right idea. The code is out there for people to play with, and I'm seeing tons of cool, free, and cheap applications just waiting to be downloaded. Want a taste of what's available? Read on to learn more about the best iPhone games of 2008.
Read more…
The greatest iPhone games of 2008
Though Macworld has nailed down its top ten iPhone games of 2008—only ten?—I just had to provide my own list of titles worth trying out. I mean, heck, I can count more than 25 titles that are better than some Nintendo DS and PSP games that sell for 20 or 30 bucks! Here's what's playing on my iPhone.
Oddball gaming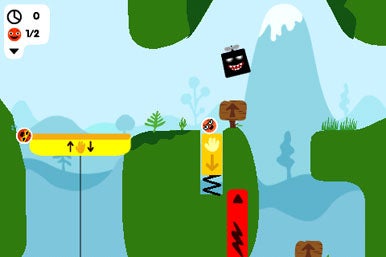 Rolando: This stylish puzzle adventure has you rolling little ball people around a colorful world. In fact, it's probably the best game on the iPhone to date. Play it.
I Love Katamari: Rolling up a big pile of garbage might not sound like fun, but this game definitely cleans up. Speaking of which, Namco needs to update the tilt controls a little before this good game becomes great.
Flight of the Hamsters: It seems simple enough—launch a hamster and see how far it'll go—but this game is amazingly addictive.
Amateur Surgeon: Here's a goofball cross between Operation and the DS's Trauma Center: Under The Knife.
Touch Physics: This rip-off—ahem—tribute to the indie game Crayon Physics has you drawing shapes to solve puzzles. I'm playing this until the real deal comes to the iPhone.
Sim cities and strategies
SimCity: It's SimCity, and it's in the palm of your hand (technically, it's SimCity 3000, but you get the idea). This spot-on re-creation operates surprisingly smoothly, providing everything from advisors to disasters—all that you'd expect from the classic PC game.
Fieldrunners: Hands down, this is one of the best and most polished iPhone games going. If you're a Tower Defense fan, check this out.
Lux: Remember the board game Risk? That's what you have here.
Zombie Attack: Defend your home from roaming undead by setting up turrets and traps.
Action junkie
Hero of Sparta: In this pretty impressive God of War-like action game, some solid hack-and-slashery is going on. My only real complaint is that the frame rate can get a little choppy at times. Still, it's a solild effort that's a lot of fun to take a stab at.
Chocolate Shop Frenzy: Fans of time-management games like Diner Dash need to check this out. In it, you serve chocoholics and play a Bejeweled-style minigame at the same time.
Dropship: This title is a high-style, vector-graphics flight game.
Topple: Playing this Tetris-like game takes a very steady hand. The difference here is that you want to stack your blocks up as high as they will go—and make sure not to tilt your phone too much in the process.
Brothers in Arms—Hour of Heroes: This is an amazing rendition of the World War II shooting title, ported to the iPhone. The controls are surprisingly smooth, proving that you can have a good shooting-game experience on your handset. It's…wait for it…a blast.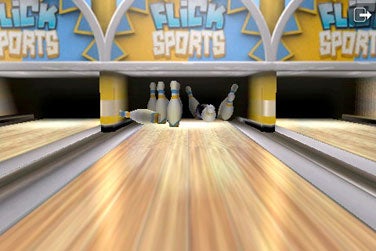 Flick Bowling: Twitch your finger and fling balls down the lane. Good physics models and nice graphics make this game a must-buy.
Guitar Rock Tour: Tap drums or play guitar riffs to cover classic rock songs. Hearing "Rock You Like a Hurricane" without a German-accented singer just seems wrong.
Real Soccer 2009: This fully legitimate, arcadey soccer title (sorry, football for the rest of the world) looks and handles fantastically.
A taste of the classics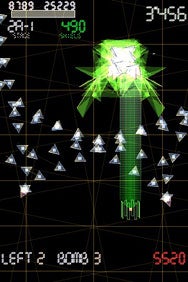 Chopper: Addicted to Choplifter way back in the day? The game has been updated, and you steer with the tilt controls.
Dr. Awesome: Excise viruses in this modern take on Qix. It gets a little repetitive, but it has an awesome name. Plus, your patients are people on your iPhone contact list.
Darts: Here's a simple dart-hurling sim for when you aren't in some pub.
Crazy Tanks: Remember Combat on the Atari 2600? Think more colorful and cooler.
Uno: It's the classic card game, on your phone.
rRootage: Snag this classic retro shooter.
Puzzlers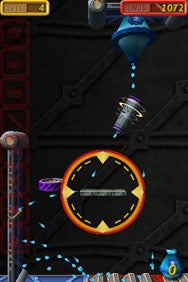 Alternate Endings: This is more of a video "Choose Your Own Adventure" than anything else, good for a quick bus trip. But it is a nice throwback to the days when full-motion video games were considered cutting-edge. Ah, Night Trap, I miss you.
Adventure: The classic Atari 2600 game, on your iPhone. It's a little twitchy, but hey, it's free.
Blackbeard's Assault: Match cannonball colors and keep them from hitting the X. If you've ever played Zuma, you'll feel right at home.
Booty Blocks: What is it about pirate puzzle games? Flick booty around the screen with your fingers.
Word Warp: Here's a quick little vocabulary game, kind of like what you'd see in the newspaper—if you still read newspapers.
Enigmo: In this brain bender you use objects to angle water drops and solve puzzles.
Aurora Feint—The Beginning: It's an online role-playing puzzle game! If you're a fan of Puzzle Quest, you'll get hooked on Aurora Feint. Consider yourself warned.
Is that all? No, there are plenty more games where those came from. Have I missed something that I absolutely need to check out? Let me know!
[Casual Friday columnist and PC World Senior Writer Darren Gladstone geeks out over gadgets, games, and odd uses for humdrum tech. In other words, he's a nerd—and he's okay with that. Need even more nerdity? Follow gizmogladstone on Twitter for more time-wasting tips.]