If you'd like to use your iPhone to sync up more than just contacts, calendars, and e-mails between your mobile device and your computer, Soonr thinks it has the app for you. The company's self-titled iPhone app makes files stored on your computer accessible via your iPhone, allowing you to view, comment, and print documents when you're on the go.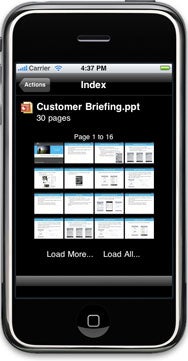 Soonr's iPhone app is now available from the App Store.
According to Soonr, the application backs up files—Soonr supports 30 file types—in a "personal cloud" that you can access from your phone. The developer says that Soonr automatically maintains the latest versions of these documents, saving you the hassle of having to upload files every time you change them.
Read more…
What can you do with these documents once they're uploaded? Soonr displays presentations, spreadsheets, and text files right on the iPhone, allowing you to zoom and scroll with the customary touchscreen finger gestures. You can also view thumbnail previews of pages within a file or look at documents in landscape view as well as portrait.
A Dashboard screen within the iPhone app shows you what files are available, recently added, or changed since your last secure log-on. Soonr also touts its app as a collaboration tool—you can share documents with the tap of a button. You're also able to comment on documents as well as read the comments of your collaborators.
Finally, there's a print command, allow you to print up documents directly from the iPhone, even to a remote printer you've set up. As an example, Soonr says, you would be able to access a quarterly report from your iPhone while you're at the airport and send it to your boss's printer.
The company has posted a demonstration video for Soonr at YouTube.
The App Store version of Soonr is free. The company also plans to offer it as a richly-featured white label service through mobile operators and software-as-a-service providers. In Denmark, for example, TeliaSonera Denmark offers a version of Soonr called Sky Files; Soonr says it's the fourth-most downloaded business app in the Danish App Store. Look for additional partners to join forces with Soonr in 2009.
Updated at 12:36 a.m. ET to note that the App Store link is now live.