I scour the App Store a lot, looking for the latest and greatest applications for the iPhone and iPod touch so that I can relay their existence to you, the pressed-for-time iPhone Central reader. And—not to cast aspersions on the hard work that goes into creating these apps—some wind up on the cutting-room floor because I just can't fathom their value to the end user. For example, just how many applications that simulate the act of passing wind does humanity actually need. Around 30, comes the reply from the development community—and their ranks are growing every day.
But every now and again, an app comes along whose existence seems so inexplicable, I worry that it's me who's missing something here. Surely, I think to myself, there must be some widespread demand that I'm simply overlooking, some popular outcry that I just haven't heard.
Today, that app is iHeathcliff.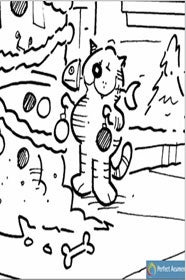 iHeathcliff delivers a daily comic strip to your iPhone or iPod touch featuring the side-splitting antics of America's favorite orange cat. No, no—not that orange cat. The other orange cat—the one that's been in the funny papers since 1973.
I had no idea that Heathcliff was so popular as to merit his very own iPhone app, let alone one that charges you $5 to receive comics you can read online for free. But maybe Heathcliff is more popular than I thought with the kids these days. Maybe his antics hold special meaning in these our troubled times. Maybe the theme song to the 1984 animated series Heathcliff is as stuck in other people's brains as it is mine:
Heathcliff, Heathcliff

No one should

Terrify their neighborhood

But Heathcliff just won't be undone

Playing pranks on everyone
Heathcliff kind of sounds like a jerk, actually.
So I implore you, gentle iPhone reader—enlighten me. What am I missing here? Did you hear that there was a way to get Heathcliff cartoons on your iPhone and think, "Oh man, at last!" Did you hear that it cost $5 and think, "$5? I would have paid $10!" Has there been a Heathcliff revival movement that I've just been too blind to see.
This sentence from iHeathcliff's description at the App Store offers a possible clue: "Heathcliff is also involved in a difficult relationship with Mr. Nutmeg, the moustached owner of the house he lives in."
"Difficult relationship?" Sounds unseemly. Perhaps there's more of an edge to this Heathcliff strip than I remember from my innocent youth.