Apple pulled the covers back on the latest iteration of its Mac operating system at WWDC on 5 June 2023. Named macOS Sonoma after the city in Northern California known for its winemaking region, the new software has customization at its heart, with Craig Federighi, Apple's senior vice president of Software Engineering stating, "We think users are going to love macOS Sonoma and the new ways it enables them to personalize with widgets and stunning new screen savers, see new levels of gaming performance, and gain powerful productivity for video conferencing and browsing with Safari." Here are the headline features to look forward to in macOS Sonoma when it arrives in the fall.
Screensavers
Ok, this might seem like a blast from the past, but screensavers are still a thing and Apple has taken them up a level in macOS Sonoma. Rather than static images, the new screensaver mode has high-resolution videos, gently sweeping across areas of outstanding beauty around the world. Also, when you log in, the video slows to a paused image that instantly becomes your wallpaper.
Widgets
Widgets made their debut on Apple's mobile devices with iOS 16 and iPadOS 16, and now in macOS 14 they come to the larger screens. It's true that you already had them available in the Notifications Center, but now you're able to drag them from that area onto your desktop. They won't snap automatically to locations either, as they do on mobile devices, so you can place them where you choose, another sign of the personalization that macOS Sonoma offers.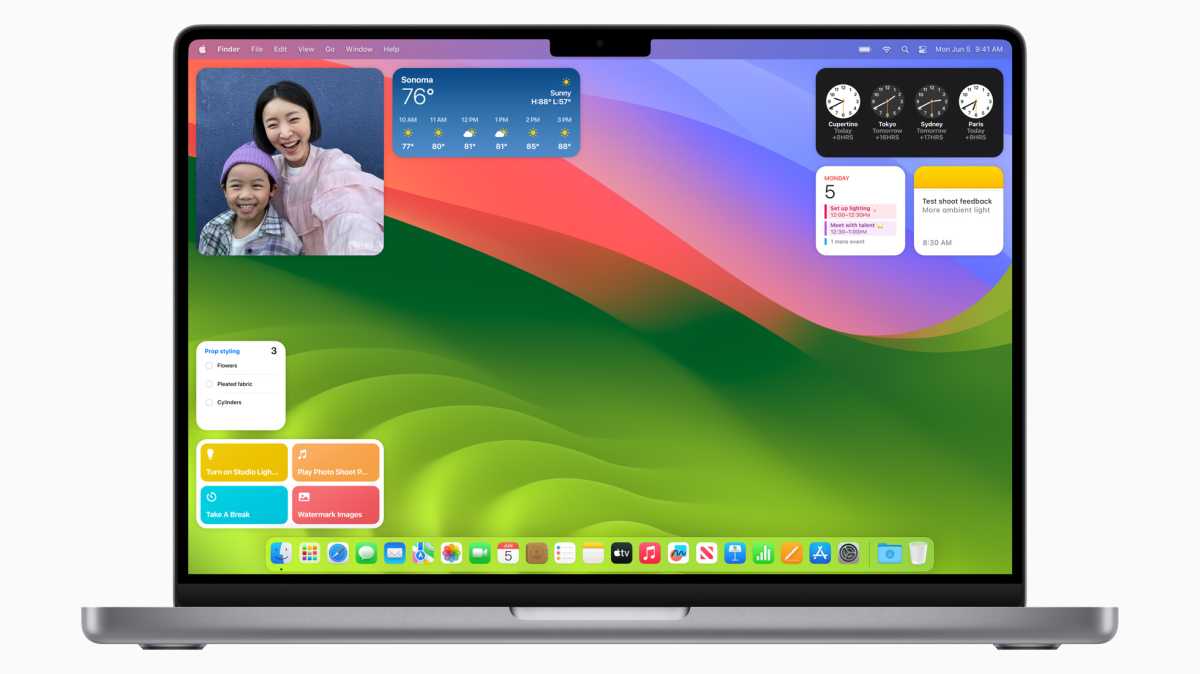 Apple
Opening up an app will cause the widgets to fade into the background, matching whatever wallpaper color scheme is selected, making them non-intrusive. But, perhaps the most useful feature is that in macOS Sonoma you'll be able to use existing widgets from your iPhone on the Mac. There's no need to install them either, as the two devices will use Continuity to display them on your desktop. They remain fully interactive too, so you can use them just as you do on your iPhone.
Gaming
For many years, gaming was the preserve of Windows PCs, with the Mac often left out in the cold. With the performance gains Apple made with its M1 and M2 processors, it seems that the company is keen to make up this ground with the introduction of a new Game Mode. This essentially optimizes the system to give the highest priority to CPU and GPU demands while also lowering latency in controllers and AirPods by doubling the Bluetooth sampling rates. The model is compatible with all existing games on the Mac, so you won't need special editions or new purchases to take advantage of the improved performance.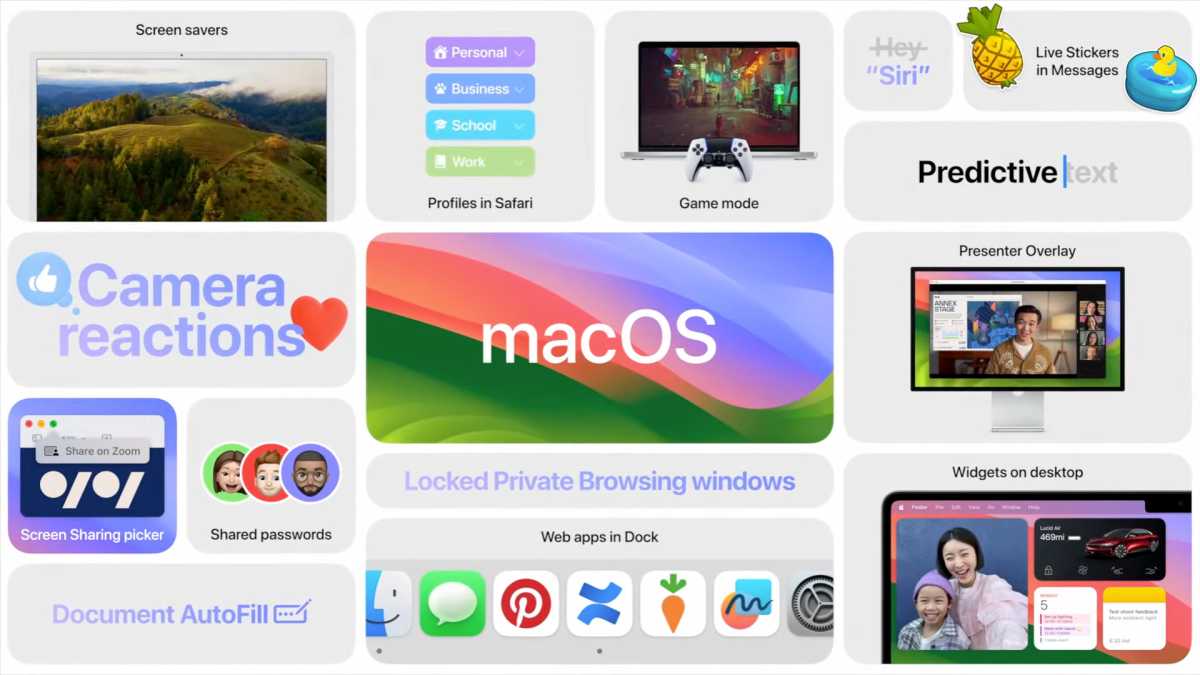 Apple
To encourage publishers to use Game Mode, Apple also announced its new Game Porting Kit which it claims will drastically reduce the amount of work needed to bring titles across to the Mac from other platforms. And there's a new title coming to macOS later this year to take advantage of it all: Death Stranding.
Video conferencing
macOS Sonoma aims to make video conferencing smarter, with tools for hosts and those watching. A new Presenter Overlay feature allows the host to remain in view at all times, either in a small circular window that can be moved around the screen to stop it from obscuring the information being shared. Alternatively, switching to the larger mode triggers some clever work from the Neural Engine, which places the presenter in a bigger space with the shared information behind them but still visible. The most impressive part is that the background in the room is then layered behind both, making it seem like the data being presented is floating in the room.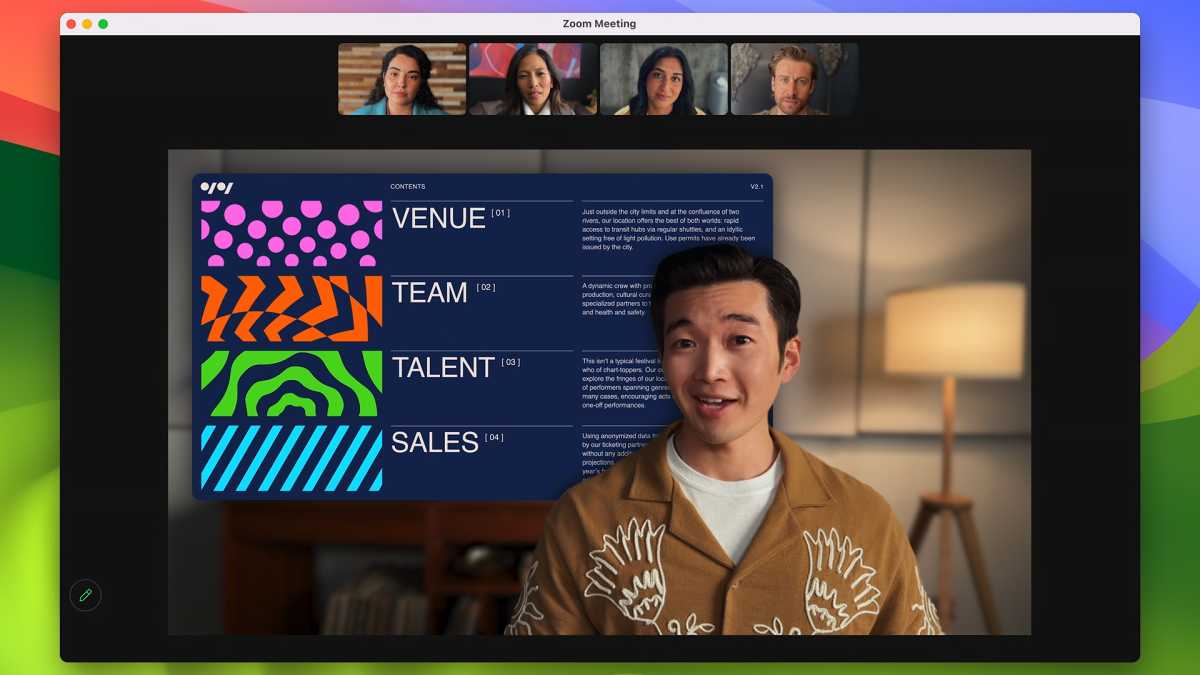 Apple
Other callers can also respond with reactions that display balloons, fireworks, and other celebratory animations over their video. For even more fun, these can be triggered by physical gestures, such as a double thumbs-up. Should make those long conference calls a little more interesting. As the effects are all done in macOS, Apple says that they will work across any video conferencing software.
Safari improvements
macOS Sonoma brings some extra security capabilities to the Safari browser. These include locking browsing windows when you're not using them, blocking trackers from loading on pages, and removing trackers from URLs when in Private browsing mode.
Passkeys get some attention too, as you'll now be able to securely share passkeys and passwords with family and friends, with the ability for anyone in the group to update them or add new ones. It's all worked through iCloud Keychain, so the data remains encrypted at all points. Another useful addition is Profiles, which allows you to create multiple instances of Safari, with one maybe focussed on work, with all the favorites, bookmarks, and things related to that, but also another for home where you have a completely different collection of information.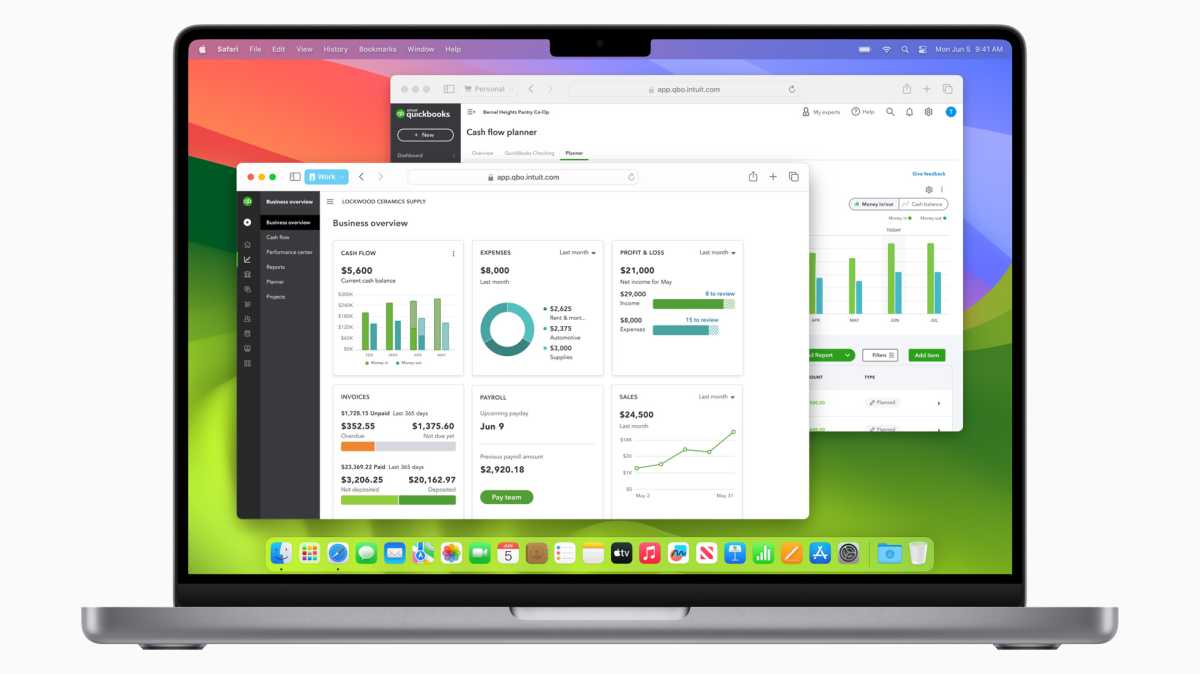 Apple
Web apps
Yes, you read that right, web apps on Mac. If you use a website regularly, with macOS Sonoma you can create an icon in the dock that will take you straight to that site. But Safari recognizes that you've chosen it as a web app, and instead of simply opening up the main browser window it instead shows a simplified one that acts more like an app. It's all handled by Safari, so doesn't require the websites to have any additional coding or special modes themselves. It also supports notifications, so you can see when an order is on its way or when the latest stories are posted.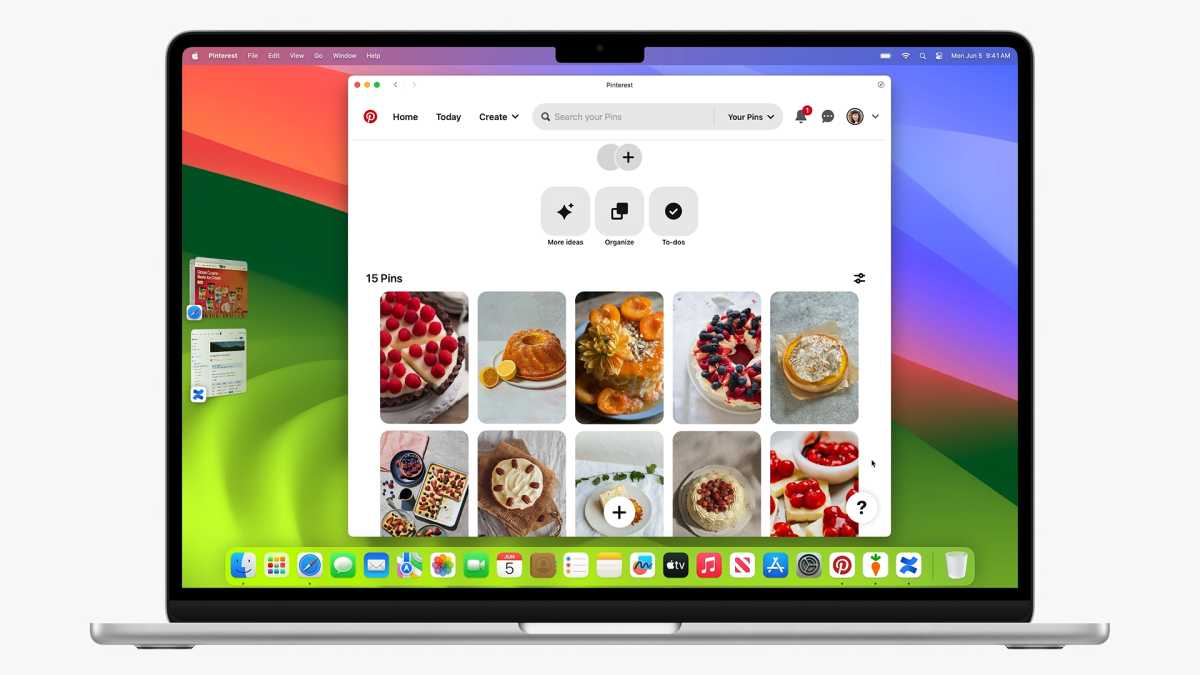 Apple
When can you get macOS Sonoma?
Apple uses WWDC to highlight the features that will appear in its software lineup, but you won't be able to get your hands on it until the fall. In the meantime, if you can't wait that long, you can sign up for the Apple Beta Software program and try it out early. Just be aware that the software is still in the development stage, so it won't run as smoothly as it will if you hold back until the full version becomes available later this year.