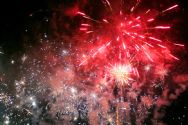 This is my 13th Expo, if you count the late, lamented East Coast events—and really, why wouldn't you? Anyhow, given that baker's dozen worth of Mac trade events, I think I can count the number of Expo-related parties that I've attended on one hand.
It's not that I'm antisocial, though I am—perhaps alarmingly so. But really, the reason I don't attend many parties during Expo week is that I'm usually busy. These articles about iPhone apps don't type up themselves, you know?
But not everyone is me, chained to my desk while the social butterflies get to spread their wings. If you find yourself in San Francisco this week and are looking for ways to blow off some after-hours steam, you could do worse than consult the Hess Memorial Macworld Events List. That's the annual collection of Expo-related parties, get-togethers, throw-downs, and hullabaloos curated by Mac consultant and writer Ilene Hoffman. (And all she asks for her efforts is a modest contribution from visitors to the Hess Events List page.)
There are more than 100 events and press functions listed on the page—everything from open gatherings to invitation-only events. Check it out, and if you find yourself at one the events listed, spare a thought for me, as I spend another evening in front of the warm glow of my MacBook Pro.