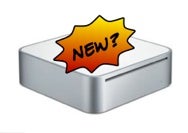 Sure, Apple tries to keep everything hush-hush when it comes to its product launches, but sometimes the best laid plans of mice and Jobs can be interrupted by the smallest of thing: a web-publishing glitch, pictures of new iPhone cases, or the odd, errant press release. Speaking of which:
New Mac Mini Hardware to Be Supported by Revolutionary SeeFile Web Sharing DAM Software
Erm. Whoops?
There isn't really anything else about said "New Mac Mini Hardware" in the release, other than a note that you can buy a $1,495 bundle of SeeFile software that includes a Mac mini with a terabyte of storage—an option which, for those of you who've been paying attention, is not available at present since the largest internal drive Apple offers is a 120GB. Of course, it could be additional external storage or this could all be fanciful imagination on the part of SeeFile. Because, you see, they really really want a new Mac mini.
Then again, the Mac mini is the unloved black sheep of Apple's computer family, and it's about time that it got its own upgrade. Will we see one when Phil Schiller takes the stage tomorrow? Well, apparently if SeeFile has its way we will. But even with a hormone imbalance, we expect the wrath of Jobs to be swift and fierce on those who spoil his secrets.