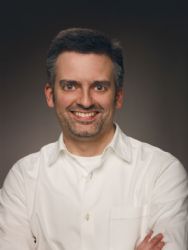 (Editor's Note: Due to the tight deadlines required for publication, Mr. Moltz's column on the Macworld Expo Keynote was due several days before the event actually took place. Not one to turn down a paycheck, Mr. Moltz agreed to take the assignment anyway, insisting he was "up to the task".)
Macworld Expo 2009 began under a pall of uncertainty.
Entering the Keynote, Mac fans had many questions. How well was Apple adapting to worsening economic conditions? What did Phil Schiller's presence on stage indicate about Steve Jobs' future at the company? Would Macworld Expo be able to survive without the company's continued presence? If something happened to Macworld Expo, where would we all hang out together? Certainly not at Denny's, not after the Moons Over My Hammy incident of 2007. And what was that smell? Was someone microwaving fish or something? Who does that right before a big keynote?
But all these questions would be answered, all our concerns allayed, and all parking stubs validated in the course of Schiller's tour-de-force keynote. (Convention Keynotes Quarterly later raved, "Phil Schiller was riveting! This was the must-see Keynote of January 6th, 2009! If you were to have seen only one keynote on January 6th, 2009, this was the one to see! Too bad we couldn't get to see these things beforehand, when this information would actually be useful! Are you still reading? Nobody ever reads this far into our keynote reviews! Don't you have something better to do?")
Schiller's tone throughout was upbeat. That said, I did think it a little odd that he delivered the entire keynote from inside a cardboard iChat window carried around by two stage hands. An Apple spokesperson I spoke to later explained that, after years of playing Steve Jobs' straight man in all those iChat demos, Schiller just felt more comfortable that way.
Of course, Schiller didn't do the whole keynote by himself. As Jobs had for years, Phil let others do much of the heavy lifting. For example, the opening discussion of Apple's recent financial results and current market position was performed by the Blue Man Group and left the audience bemused, enchanted, awed at the absurdity of the human condition and, ultimately, downright confused.
There followed a series of appearances by executives from both Apple and elsewhere. The no-holds-barred cage match between Apple Senior Vice President of iPhone Software Scott Forstall and Adobe Chairman John Warnock to determine the fate of Flash on the iPhone was particularly elucidating. But it was Apple VP of Software Engineering Bertrand Serlet's preview of Snow Leopard—done entirely through interpretive dance—that really won over the crowd.
When Schiller retook the stage he looked determined to kill. After announcing that everyone in the audience would be receiving gold-plated iPods pre-loaded with the collected, remastered works of the Beatles, he introduced a completely revamped Mac mini, a new Apple TV, three new iterations of the iMac and MacBook, and new Mac Pros. He then unveiled an iPhone nano, a touch-based Mac tablet, a $500 netbook, and some kind of orb that bent the fabric of the space/time continuum allowing for time travel and teleportation.
Eventually Phil had to be wrestled from the stage by other Apple employees, as he had just announced every product in the company's pipeline for the next five years, leaving the company's future in tatters. He was interrupted several times by standing ovations, however.
Tim Cook then took over and did hand shadows for 15 minutes before showing the audience a YouTube video of a monkey smoking a cigarette and riding a unicycle. Finally, Cook introduced the musical performer who had the honor of bringing the last-ever Apple keynote to a close: a group of cowl-clad monks whose excellent funeral dirge had audience members chanting monotonously along as they filed out of the Moscone Center.
While Apple's involvement with Macworld Expo has come to an end, that doesn't mean ours has to be. It's still a great place to learn, meet people and show off third-party products for the Mac and the iPhone. I know I'll be there next year!
And not just because some of this year's attendees owe me money. Although that is a big part of it.
John Moltz can't wait to see what really happens at the keynote.