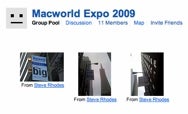 As much as you love to hear us babble on about all the stuff that we come across on the show floor—ooh, I think I got some gum stuck to my shoe—Apple gum!—we all know that pictures are worth seven hundred and sixty-eight words (damn this economy and its exchange rates!).
So if you want to not just read about but see what Macworld Expo has to offer, check out the Macworld Expo 2009 pool on photo site Flickr. It's the place to go to see everything from pictures of covered banners to celebrity shots of Phil Schiller. Macworld and MacUser contributors will be posting their own shots to the pool throughout the week, but since it's the Web we're talking about, you can even submit your own photos to the pool: just click "Join this Group" and when you go to upload pictures to Flickr, you can choose to have it assigned to this pool.
I'm also thinking about assigning some bounties here. Can you get a shot of Phil Schiller's delicately coiffed hair? Jonathan Ive's icy stare of intensity? How about a picture of yours truly, made all the more challenging by the fact that I don't show up on film. Best of luck on that one, sparky.