Canon U.S.A. on Monday announced a new line of five high-definition and six standard-definition camcorders. Pricing and availability were not announced — the announcement came from Las Vegas, Nevada, site of this week's Consumer Electronics Show (CES).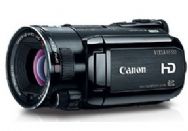 The new Vixia high-def camcorders include the HF S10 and HF S100, which both write video to SDHC memory cards. The S10 optionally writes to a 32GB internal Flash memory drive. Both camcorders feature 8.59 megapixel CMOS image sensors, face detection technology, advanced Auto Exposure and video snapshot and "Dual Shot" modes. They record 8 megapixel still images, too.
The Vixia HF20 and HF200 are compact models; the HF20 also has 32GB internal memory and an SDHC card slot, while the HF200 records to SDHC only. They sport 3.89 megapixel CMOS image sensors, a 15x video lens and other accouterments.
The HV40 rounds out the new hi-def offerings; it records to HDV tape, and can record in native 24p mode — a carryover from Canon's professional camcorder line.
The new standard-definition camcorder modes include the FS22, FS21 and FS200 — all of them are flash memory-based camcorders. The FS22 and FS21 feature 32GB and 16GB of internal flash memory, respectively, and support SDHC memory cards. They also tout 48x zoom. The FS2000 records to an SDHC memory card and comes in silver, red and blue colors.
The DC420 and DC410 are DVD camcorders. The DC420 features 48x zoom and the DC410 features 41x zoom. Both support add-on features like filters and lens accessories.
The ZR960 is canon's newest MiniDV camcorder. It features 41x zoom, a microphone terminal and support for add-on features like filters and lens accessories.