Vuzix on Monday announced the Wrap 920AV, a new pair of sunglass-style video glasses that work with iPods and the iPhone. Pricing was not announced; Vuzix expects to ship the new video glasses in Spring, 2009.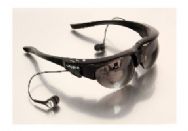 Vuzix claims the Wrap 920AV provides the same effect as looking at a 60-inch monitor from a distance of nine feet. The video goggles feature a "see-thru" lens design that lets you watch a private video display while still being able to see out of the glasses. It also supports prescription lens inserts.
Noise-canceling in-ear earbuds are also integrated into the design.
Compatible devices include the iPod and iPhone, portable DVD players, media players, digital cameras, camcorders, cell phones with video out, PCs and laptops with S-Video output.
The Wrap 920AV is powered by two AA batteries and weighs less than three ounces, according to Vuzix.