Elgato on Monday introduced a new generation of its EyeTV Hybrid TV tuner for the Mac. It makes its debut at Macworld Expo in San Francisco; attendees can find Elgato in Booth 2126. The new EyeTV Hybrid costs $149.95.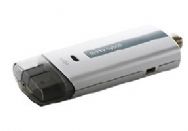 The new EyeTV Hybrid is intended specifically for users in the United States and Canada. The device receives digital and analog TV by cable and antenna, and supports both standard-definition and high-definition TV. New features including aluminum finish and new chip technology. It also supports FM radio.
The EyeTV Hybrid includes Macrovision's TV Guide EPG, Smart Series Guides and Parental Controls. It's the first Elgato product to ship with EyeTV 3.1, a new version of Elgato's TV tuner software for Mac OS X.
The TV Guide EPG includes 14 days of guide data and includes ratings, rich cast and genre information. One year of service is included for all new and existing EyeTV 3 users. Additional years of service cost $19.95. Existing users can find the update to EyeTV 3 later this week; it's free for EyeTV 3 users.
System requirements call for a G4 or faster (including Intel), 512MB RAM, a built-in USB 2.0 port and Mac OS X 10.4.11 or later. An Internet connection is required to download Program Guide data. HDTV recordings in 720p or 1080i require an Intel Core 2 Duo processor.