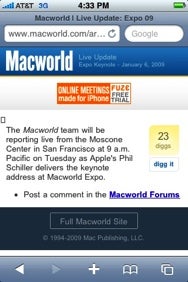 Fear not gentle readers. Our new digs may be a bit elaborate for your iPhone, particularly as you relentlessly try to reload to get the latest updates on tomorrow's keynote, but we will have a great light version of the live update for our special coverage of the year's most anticipated Apple event (it's downhill from here, folks).
You'll get the latest and greatest news straight from the mouth of Jobs Schiller, channeled by Dan and Jason so quick your head will spin. If you visit the live update story from your iPhone, you should be auto-redirected to the mobile version, but in case you're not, you can also access it manually.
Embrace the tiny, pretty live update page. We made it especially for you with love, or at least Dan's love.