Hungry? On a road trip, looking for a place to stay? ActiveGuru's Vicinity is the latest app to exploit the iPhone's GPS location feature (not to mention location tools in the iPod touch) to let you browse nearby services and amenities, including as banks, bars, supermarkets and convenience stores, gas stations, hotels, restaurants and takeout places.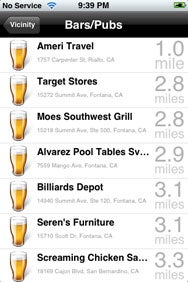 Unfortunately, Vicinity's limited range and shoddy sources also limit its utility.
I can imagine how Vicinity could be ideal for business travelers, especially if you are headed for major cities and happen to be staying near a civic center or tourist hub. If you should find yourself staying on the outer reaches of a housing development in the exurbs of Southern California, however, Vicinity's utility will be greatly diminished.
Read more…
Vicinity operates simply enough. You launch the app, let it ascertain your location and start browsing for nearby restaurants or pubs, for example. Tap the name of a place you're interested in, and Vicinity will return an address, phone number and Yahoo Local Web link, which may or may not include customer reviews. You can also pinpoint a particular address on a map.
What Vicinity needs most is the ability to set and expand the geographical limits of its search. Vicinity returns locations within a five-mile radius. That might make sense if you happen to be in West Los Angeles or mid-town Manhattan—areas teeming with places to eat and shop. In my little corner of Upper Sprawlville, Calif., however, all Vicinity will show is a few Starbucks, several third-rate restaurant chains, and more sports bars than you can wave an Oakland Raiders jersey at. You would never know that there are some respectable, slightly more upscale restaurants just a few more miles down the freeway. A similar app, Places ( , lets you widen your search from within one mile out to 25 miles.
Vicinity does include some clever features, none of which will necessarily help you find a four-star steakhouse. Tap the "Where am I?" button at the top of the screen, and the app will give you your coordinates within a couple of hundred yards, along with the district, city, county, state and country you're in.
More interesting are the Wikipedia, Flickr and Panoramio links. Tap the Flickr or Panoramio buttons and the app collects and lists photos tagged near your current location. Tap the Wiki button and the app will bring up articles relating to nearby locales, including cities and points of interest.
The app boasts of combining "hundreds of data sources," and I certainly believe that to be true. It's precisely why I've yet to find a locator app that is 99.5 percent infallible or not beset with comical errors. Under Bars and Pubs, for example, Vicinity lists a venue called "San Bernardino County Pub Dfndr," which, you may rest assured, does not have a Happy Hour and does not serve drinks with little umbrellas in them. On the other hand, you may want to have the number handy if you ever get slobberin' drunk at the Palomino and face 30 days in San Ber'dino.
I noticed, too, that some of Vicinity's information is out of date. I found a few restaurants listed that have been closed for months and, in at least one instance, years.
Vicinity also crashes. A lot. Every time I tap the "Nearby places" button, the app seizes and closes.
Earlier I mentioned Places, an app that compares far more favorably to Vicinity and which has the additional virtue of being free. Places isn't perfect. But its wider search horizon makes it a more useful tool for the traveler.
Vicinity is compatible with any iPhone or iPod touch running the iPhone 2.2 software update.
[Ben Boychuk is a freelance writer and columnist in the exurbs of Southern California.]