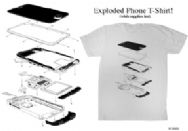 While it may be too late to order up this fine set of threads for the Philnote, you probably can still sport it while poking around the rest of Macworld Expo this week.
As the diagram shows, the iPhone is illustrated in fine detail, in a layer-by-layer, exploded view. The kind of view you might get, for example, by very very carefully running over your iPhone with a tractor trailer. Carefully. Just remember: the iPhone is more than the sum of its parts.
This may just be the geekiest iPhone-related shirt that I've seen yet, although poking around iPhone-related shirts on Zazzle, this one recalling Samuel Morse did catch my eye.
[via Cult of Mac]