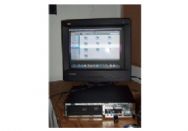 Last year, our own Rob Griffiths showed us how to build a " Frankenmac," (aka a Hackintosh, or x86 Mac) for about $1000.
But you may not need that level of performance in your rolled-at-home Mac. So, the good folks over at UselessNinjas have just put together an easy, step-by-step guide outlining how to create such a Mac for of one two Benjamins and two Jacksons ($240)—definitely a price that's low-low.
It's built around this machine: the MSI Wind PC Barebones desktop machine, which can be had for $140. Toss in RAM, a hard drive, a DVD drive (optional), keyboard/mouse, and you're definitely in for under $300.
There are a couple of problems with this particular approach, of course. Mainly, the article specifically encourages piracy of OS X, which is, of course, a big no-no. Make sure you have a legal copy of OS X before you undertake this endeavor. Further, of course, likely violates Apple's EULA, so you may want to be aware of what exactly is and isn't kosher. Naturally, if anything goes wrong, Apple won't help you.
Still, who wouldn't want a cheaper Mac?
[via Lifehacker]