At WWDC 2023 today Apple previewed iPadOS 17, this year's main software update for the iPad. While pre-event rumors suggested this would be a quiet refresh, there were several worthwhile changes and new features that are good news for iPad owners.
"iPadOS powers our most versatile device and enables users to do so many things on iPad, and now with iPadOS 17, we deliver an experience that's even more personal and capable," said Craig Federighi, Apple's senior vice president of Software Engineering.
Lock screen & widgets
Last year iPhone users got the new ability to customize their lock screens, but tablet users missed out. iPadOS 17 now brings this option to the iPad. You can set photo shuffles or Live Photos as the background, customize the font and colors, and generally stylize the look in the way you prefer: having the clock digits partly covered by an element of the image is a particularly nice effect. The lock screen is also now the home of Live Activities, so you can follow sports scores or the progress of your Uber driver without having to open a dedicated app or even unlock your iPad.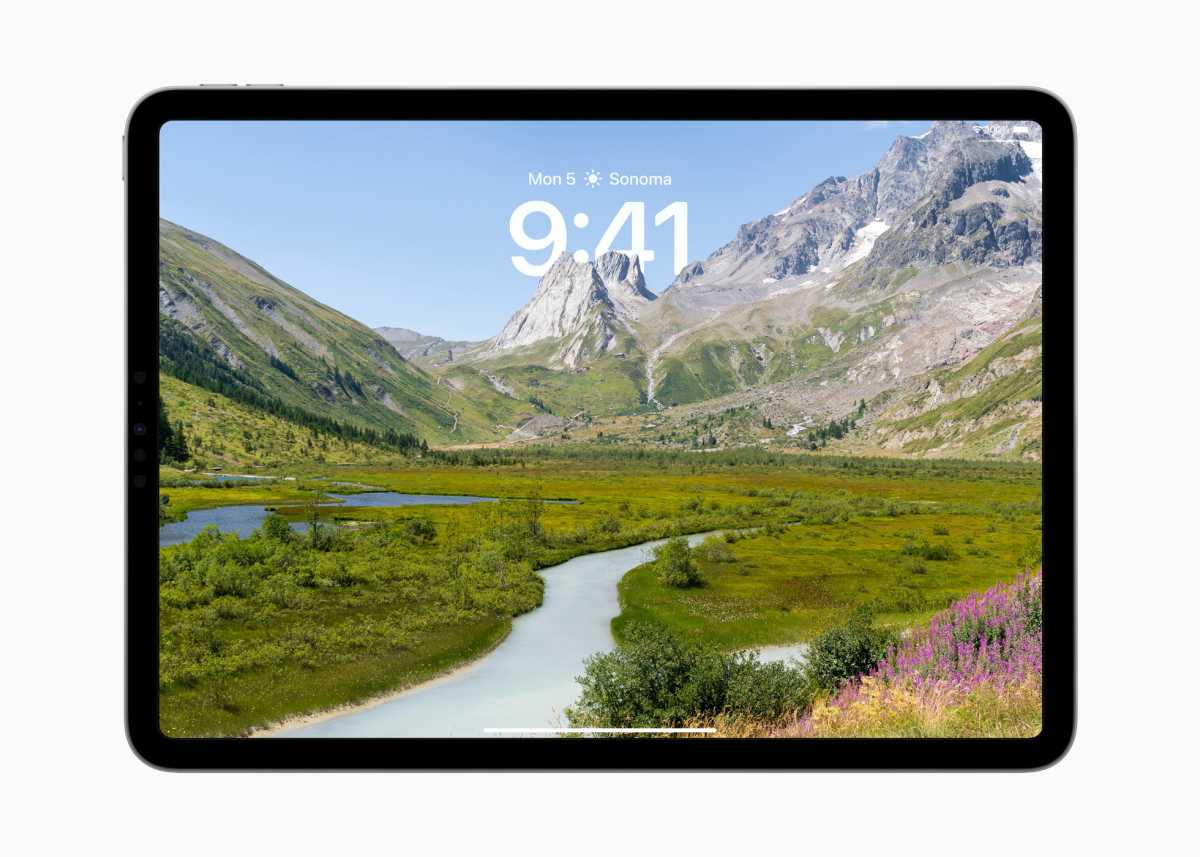 Apple
The lock screen can also now be customized with widgets, and while these were previously available on the home screen in iPadOS, Apple boasts that iPad widgets will become more interactive this year. Whereas, for example, the Reminders widget in iPadOS 16 effectively just shows your reminders–tapping on the widget then opens the app–the equivalent in iPadOS 17 lets you tick off tasks without having to open the app.
Stickers and audio transcripts: Messages gets interactive
Apple announced some fun and handy updates to the iPad's all-important Messages app to match those in iOS 17. You can create stickers, including animated stickers based on Live Photos, and drop these into message threads; these are collected in a drawer accessible from the keyboard. There's a new button to jump to the last read message in group chats, helping you catch up with the conversation. And audio messages are transcribed automatically so you can easily get the gist without having to play them out loud.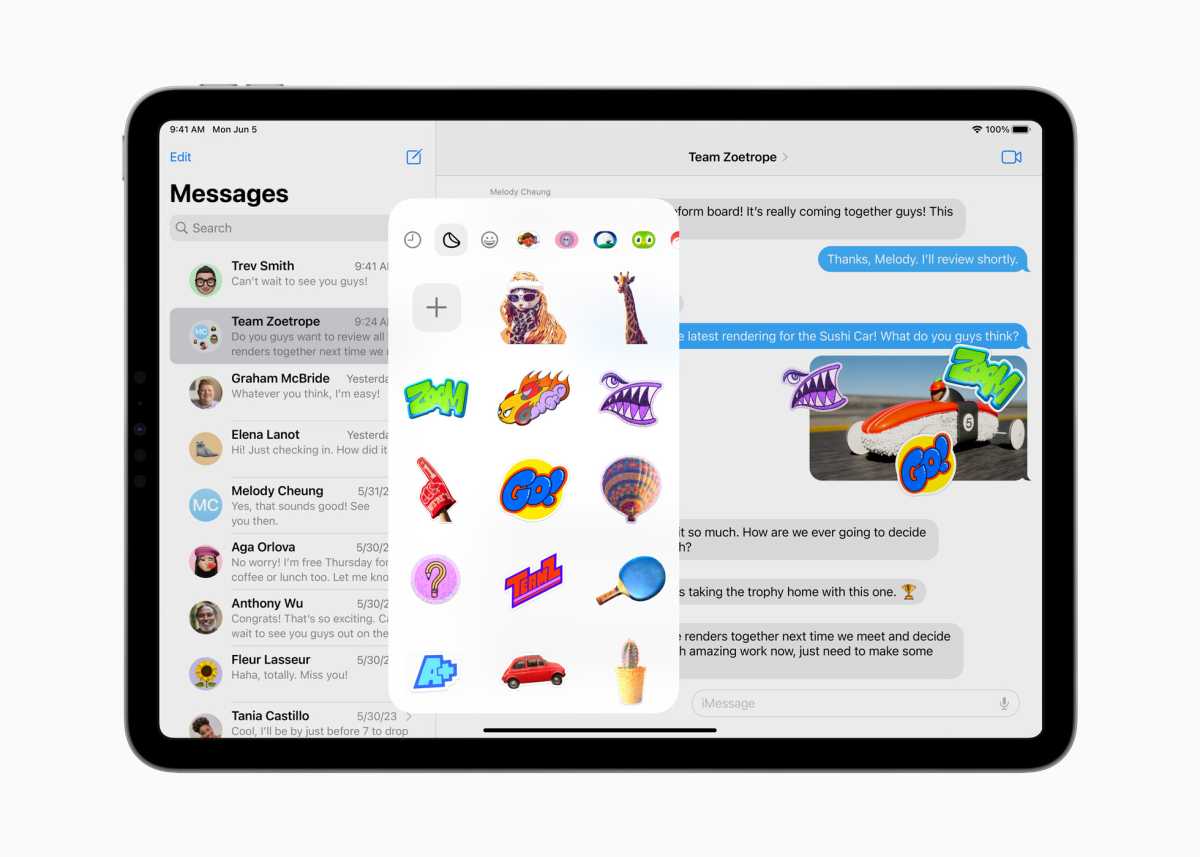 Apple
iPadOS 17 doesn't appear to get iOS 17's Check-In feature, which lets you set up a contact to be automatically notified when you get home (and can share information with them such as location, battery level, and cell service if things go awry). Presumably, this is less of a priority on the iPad, which is carried around less than the iPhone.
While we're on the subject of communication, FaceTime in iPadOS 17 gains the option to leave video and audio messages when the recipient doesn't pick up, and Reactions such as hearts and balloons.
New Health app
We've been waiting a long time for this one. Health, which arrived on the iPhone in iOS 8 an astonishing nine years ago, has finally come to the iPad. Granted, the iPad is less obviously a health-related device than the iPhone–it doesn't get carried around when exercising, it doesn't (currently) pair with the Apple Watch–but its larger screen is perfect for viewing health data and trends sourced from other Apple devices you own.
Getting clever with PDFs
Here for once is a new feature that hasn't landed on the iPhone. PDFs are easier to edit in iPadOS 17 because it uses machine learning to identify fields that you'll want to fill in, then suggests (where appropriate) autofill information scraped from Contacts.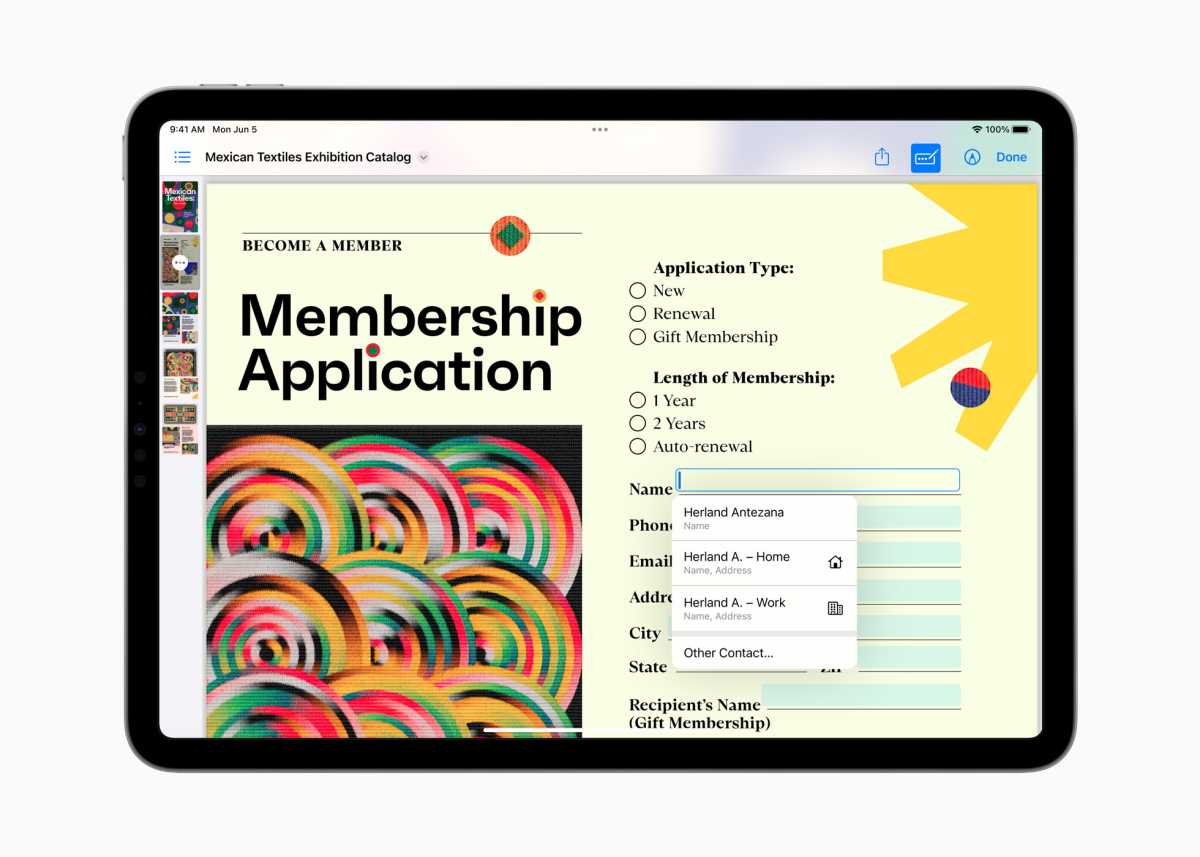 Apple
This also applies to the Notes app, which has been designed to handle PDFs more effectively. PDFs appear full width in Notes in iPadOS 17, and you can annotate PDFs right in the note. If you're sharing a note with someone else, you can collaborate on PDFs and changes appear in real-time.
Apple
Getting productive with Safari
iPad owners will be able to create multiple browsing Profiles, each of which will have its own history, cookies, and bookmarks. By switching between these you can be more productive when in work mode, personal mode, and so on.
There are also changes to Private Browsing: Apple says this feature now allows you to lock a window with Face ID/Touch ID, and remove cross-site trackers.
Other changes
Let's go quickfire on some other changes in iPadOS 17:
Multiple timers can run at once.
Stage Manager is more flexible about window layout.
Reminders can make grocery shopping easier by automatically grouping together related items.
In Maps, you can download maps and use them offline.
Visual Look Up can recognize more things, including food and the symbols on laundry labels.
And Siri can be activated by just saying "Siri" rather than "Hey Siri." We're extremely unconvinced of the benefits of this, given that Siri already false positives around once a day with the two-word trigger phrase, but hopefully this is optional (or Siri has become more accurate at hearing).
Which iPads will get iPadOS 17, and when?
The first developer beta version of iPadOS 17 is available now, while the full public release will appear in the fall. It will be a free software update for iPad (6th gen and later), iPad mini (5th gen), iPad Air (3rd gen), 12.9-inch iPad Pro (2nd gen), 10.5-inch iPad Pro, and 11-inch iPad Pro (1st gen).