FileMaker has updated its flagship database product to version 10— we've told you about that. FileMaker Pro 10 offers many new features, highlighted by an interface overhaul, the addition of dynamic reports, and an updated Quick Start screen and Resource Center— we've covered that, too. And a team of FileMaker developers is celebrating the release of FileMaker 10 with a free database designed for the iPhone and iPod touch—that, friends, we haven't told you about.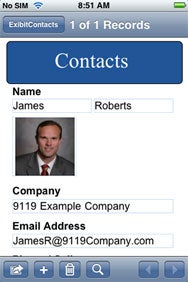 The database comes from FMWebschool and works with the developer's $70 FMTouch app from the App Store. It stores both contacts and exhibitor information for this week's Macworld Conference & Expo.
Here's how it works: Expo attendees can use the FMTouch app to enter contact information in the FMWebschool-supplied database. The idea, the developer says, is that it saves you the hassle of having to carry around the business cards of everyone you run into on the show floor. Because the FMTouch app allows for multiple tables, FMWebschool's database also includes a table of Expo exhibitors that lets you enter in contact details as well as the location of their booth in Moscone Center. The Macworld Expo Contacts and Exhibitor Database is available at the FMTouch Web site.
Not an FMTouch user? Don't fret—FMWebschool also built a Web site—using FileMaker 10, naturally—that iPhone users can access through their Safari browser. (The Web site, hosted by FMGateway, is password-protected, so you'll need to create an account before you can use it.) Use the Web site to add contacts and exhibitor information as you roam the floor of Macworld Expo.