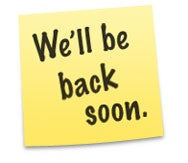 We're off to get the latest Mac news at the Macworld Expo keynote. And we suggest you do the same.
Follow along at home with Macworld's live keynote coverage. (There's a mobile version of the live blog as well, just in case you want to follow along from your iPhone.) Or if you've got more of a Twitter mindset, follow along with the Macworld Twitter feed manned by Scott McNulty.
And of course, we'll be back with more posts at the conclusion of Phil Schiller's keynote.