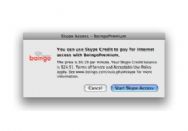 Just in time for Macworld, those ridiculously talented Estonian engineers have come out with the latest version of everyone's favorite Internet phone and video calling software the Skype 2.8 beta.
Among other extras, this new version includes two all-new features: The first lets you use your Skype credit to pay for Boingo Wi-Fi hotspots on a minute-by-minute basis. So, forget having to fork over $10 just to send a quick message off to your loved one or business partner. Now you can do it for actual small change—just $0.19/minute.
You can also now do screen sharing with other Skype users. Of course, iChat has had this feature for awhile now, but iChat can't do cross-platform screen sharing so you can help out your Windows/Linux friends. There are some limitations at the moment, though: for example, while you can share your screen with your buddies on Windows and Linux, you can't yet see their screens. But really: who wants to look at a Windows or Linux screen when you've got your Mac in front of you?
You can download the new 2.8 beta here, so feel free to give it a spin and let us know how it works out for you.
[via Wired Epicenter]