Apple announced a new version of iWork, its collection of business productivity tools, during Tuesday's Macworld Expo keynote. iWork '09 features new versions of Keynote, Pages, and Numbers.
The updated version of Keynote, iWork's presentation component, adds a Magic Move feature that adds a "morph"-like transition between slides; as well as a similar feature for objects and text—you choose the starting and ending objects or text, and the program creates a transition between them. The update also adds new slide transitions and themes, as well as new chart animations, shapes, and textures.
Apple also announced Keynote Remote, an application for the iPhone and iPod touch that lets you control your presentation from your mobile device. Like Apple's Remote app for iTunes and the Apple TV, Keynote Remote connects to the Mac running Keynote via WiFi. In portrait mode, the iPhone or iPod touch's screen shows the current slide and the slide's notes; in landscape mode, you see the current and next slides side-by-side. You switch slides using the touchscreen's familiar swipe gesture. The application will cost $1 from the App Store.
Pages '09 is highlighted by the addition of full-screen view that lets users focus completely on their writing project. Moving the mouse up to the top or left side of the screen gives users access to Pages' menus or page sorter, respectively.
The new version of Pages also adds a dynamic outlining feature for organizing writing projects; changes you make in an outline are automatically reflected in page view.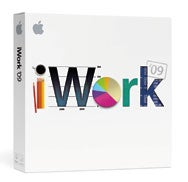 Other additions to Pages include support mail merge using Numbers; integration with MathType and EndNote for scientists and academics; and 40 new templates.
Finally, iWork '09 includes Numbers '09, an update to Apple's spreadsheet program. A key new featre is table categories, which lets you recategorize a table by any column. Select a "categorize by this column" choice, and Numbers automatically creates a table based on that category.
Also new is easier formula writing, including over 250 functions searchable in a new function view.
Numbers also features new chart options, including mixed chart types, multi-axis charts, charts with trendlines, and error bars. Users can link charts into Pages and Keynote, as well, with changes in Numbers automatically reflected in the other iWork apps.
iWork '09 is shipping now. It costs $79, with a family pack available for $99. Apple is also bundling iWork '09 with iLife '09 in a $169 Mac Box Set that also includes Leopard. The box set ships later this month.
System requirements for iWork '09 call for Mac OS X 10.4.11 or Mac OS X 10.5.6 or later, a G4/500MHz or faster (including Intel), 512MB RAM (1GB recommended), 32MB VRAM, QuickTime 7.5.5 or later, a DVD for installation and 1.2GB available hard disk space.
Apple has also unveiled a new service called iWork.com. The service launches as a public beta today, and Apple expects that it will eventually be a paid service.
iWork.com enables users to share documents with other people online. You're able to invite people to view documents online, add comments and notes, and download a copy in different formats, saving users the time and trouble to copy and paste documents in e-mail.
The service is integrated into iWork '09 applications as a button on the toolbar. A user can send other users an invitation by e-mail to view the document, which opens in popular modern Web browsers. You can scan the document, leave comments, and download a copy of it as a document in native iWork, Office or PDF formats.
2:15pm: Updated with more information about Pages, Keynote, and Numbers