The 17-inch MacBook Pro will join the rest of Apple's laptop line in getting a unibody enclosure, as Apple unveiled a new configuration of its largest laptop during the Macworld Expo keynote on Tuesday. Apple bills the updated MacBook Pro as lighter, thinner, faster, more environmentally friendly, and equipped with a unique, long-lasting battery.
The 17-inch MacBook Pro will continue to sell for $2,799. It will ship by the end of January.
The new 17-inch MacBook Pro is less than an inch thick, making it the world's thinnest 17-inch notebook, according to Apple. The company says the 6.6-pound weight also makes it the lightest 17-inch notebook.
In addition to getting the same enclosure that was unveiled for the rest of the MacBook Pro line in October, the new 17-inch model sports a slightly faster Core 2 Duo processor—it runs at 2.66GHz as opposed to the 2.5GHz processor that powered the older 17-inch MacBook Pro. The new system also features 4GB of memory, Nvidia GeForce 9400M and GeForce 9600MT graphics, a 320GB hard drive, and a DVD-burning SuperDrive.
The laptop features a 1,920-by-1,200 LED-backlit display. It also sports a 140-degree height/120-degree width viewing angle, a 700:1 contrast ratio and features 60-percent greater color gamut than previous notebook display. The model comes with a glossy display; for $50, users can opt for an anti-glare option.
Unlike the recent round of MacBook updates which removed a FireWire port from those consumer-oriented laptops, the 17-inch MacBook Pro features a FireWire 800 port. Additionally, the notebook has three USB 2.0 ports, an ExpressCard 34 slot, a battery life indicator, an Ethernet port, and a Mini DisplayPort.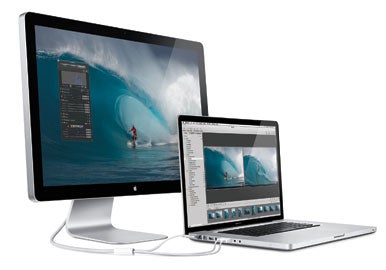 A 2.93GHz Intel Core 2 Duo processor is also being offered as a build-to-order option, along with up to 8GB of RAM. 320GB 7200 RPM hard disk drive, 128GB or 256GB Solid State Drives (SSDs) are also optional.
Apple also touted the environmental attributes of its latest laptop. The new MacBook Pro model is free of arsenic, BFR, mercury, and PVC. It's also highly recyclable, and consists of 34-percent smaller packaging while coming equipped with a 100-percent-recharge battery. The laptop has been awarded an EPEAT Gold certification. Like all of the latest Mac laptop modes, the Macbook Pro is made from highly recyclable aluminum and glass. The battery lifespan is supposed to extend to 5 years, meaning fewer batteries in landfills, according to Apple.
While the new Macbook Pro will surely get lots of buzz, the most intriguing feature is likely the different battery it uses. Instead of the standard cylindrical AA cells that most batteries utilize, the Macbook Pro's battery uses custom-shaped cells. The lifespan of the cells is three times the length of the industry standard. In a decision that will likely cause some controversy, the battery is not removable. Apple says that with discrete graphics you can get 7 hours of battery life; integrated graphics gets you up to 8 hours. This gives the user three hours more battery life than the previous 17-inch MacBook Pro.
Apple claims that a "properly maintained" 17-inch MacBook Pro battery will retail 80 percent or more of its original capacity during a lifespan of up to 1,000 charges. The company has posted a Web page with details about the new battery technology it's using in the 17-inch MacBook Pro.
Macworld will post more details about the MacBook Pro as they become available.