At the end of Tuesday's lackluster Macworld Expo keynote address, Phil Schiller, filling in for Steve Jobs, had one last thing to say involving changes at the iTunes Store. It was in three parts, actually, but the most important item in his list was that music sold at the iTunes Store will soon be totally without digital-rights management. As of Schiller's announcement, 8 million tracks available at the Store are DRM-free; the remaining 2 million will have no DRM restrictions by the end of March.
This is certainly good news for music consumers, but what about those of us who have already bought music with DRM?
When Apple introduced iTunes Plus music in 2007, offering DRM-free tracks encoded at a higher-quality 256 kbps rate, the company also introduced an Upgrade My Library feature, which you'll find at the top of the right hand column of the iTunes Store. Apple describes this as a "special offer to upgrade your entire music library of previously purchased albums, songs and music videos," at a rate of 30 cents per song, 30 percent of the current price for albums, or 60 cents per music video. This sounds like a good deal, until you read the fine print.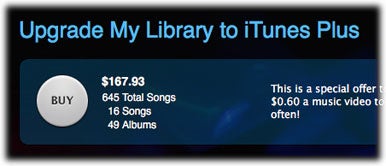 At first, only a handful of my purchased music showed up in the Upgrade My Library list, with no logic as to why certain albums were there and others, on the same labels, were not. As of this writing, the list shows a total of 645 songs, or 49 albums and 16 individual songs. This is a far cry from the whopping 2,419 tracks I have bought from the iTunes Store with DRM. (Note that two large blocks of music make up half of this huge number of tracks: the complete Bob Dylan, for 801 tracks, and 446 tracks of the Complete U2.)
There's something rotten in Cupertino's way of offering this upgrade possibility. First, not everything I've purchased without DRM is currently available for upgrade, even though many of the albums in question are available for purchase in iTunes Plus format. But beyond that, if I want to upgrade any of my music, I have to go for everything Apple offers, like it or not. So that Franz Ferdinand single I downloaded for free for my son? 30 cents. The 50 Cent track, also free? Another 30 cents, as are all the other "free" singles I've downloaded over the years. (Curiously, Apple's FAQ says that free songs are not "eligible" for upgrade, though I see quite a few in my list.) What about those two Black Eyed Peas albums that my son bought, that he no longer listens to? That's six bucks. Add them all up, and that's a fair amount of cash for music I don't want to pay for again.
Why won't Apple let me choose what I want to upgrade? Is the company afraid that it won't make enough money? Apple would certainly make more by my spending something rather than nothing, which is what I plan to do for now. Instead, the company wants to force me to pay again for music I don't want, rather than allow me to choose what I really want to own in iTunes Plus format.
The least Apple could do is allow users to opt out for any song or album they don't want, losing the opportunity to be able to upgrade those tracks in the future. I'd especially like to upgrade the Dylan and U2, but does Apple really think that I'll be able to shell out around $500 (what it would probably cost to upgrade all 2,419 tracks) in one shot? Sorry, Apple, if you want to get me to upgrade my music you'll have to come up with a better way.
[Kirk McElhearn is a senior contributor for Macworld.]