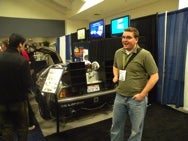 Yeah, Acura may have cars on the show floor, but none of their mechanical conveyances measure up to the automotive star of this year's expo. In the north hall at the TechRestore booth, you can find—prepare yourself—a DeLorean. We may not have a Marty McFly or Dr. Emmett Brown to pilot it, but the car, flux capacitor and all, is sitting with open doors at the expo.
Sure, I understand TechRestore's message that your Mac can be restored to its former working condition just as if you'd gone back in time. But let's think of what other Mac-related pursuits we could use it for: for example, one could head back in time, buy up G4 Cubes, and resell them at a later point in time when people thought they were worth slightly more than they originally sold for. Exploit the irony.
TechRestore is also demoing their matte screen replacement service. For $199, they'll take high-quality sandpaper and rub down your screen for hours. After they vacuum out all the shiny dust, you're left with the highly-desired matte finish. While I like envisioning that, the truth is they replace the screen, remove the glass covering, and even replace the bezel for a brand new display. It's a good option for those that can't stand looking at themselves.