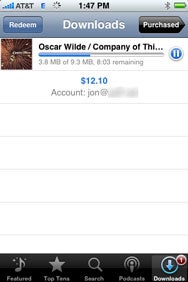 As part of the trio of iTunes-related announcements during his Tuesday morning Macworld Expo keynote address, Phil Schiller announced that Apple had added support for purchasing and downloading music and podcasts on the iPhone using a 3G data connection (previously support was limited to Wi-Fi-connected phones and iPod touches—it was even called the iTunes Wi-Fi Music Store until today). And yes, it works.
But what Schiller didn't mention is that you now can download using the slower (much slower) EDGE data connection as well (a tip o' the hat to Daring Fireball's John Gruber for pointing it out just after the keynote). Back at the office, I turned off Wi-Fi and 3G on my iPhone, then proceeded to search for and download a free iTunes track using my EDGE connection. And yes, it too worked.
There are two downsides to downloading over EDGE, however. First, it took 15 minutes and 12 seconds to download a 9.3MB track, a lot longer than it would have taken over 3G or Wi-Fi. And second, the iPhone has same size restriction for iTunes downloads that it has for App Store downloads—namely, you can't download anything larger than 10MB over 3G or EDGE.