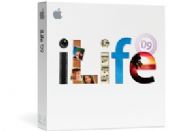 Words can only take you so far, dear readers, and Apple knows this. That's why they have posted two video Guided Tours that show off all the new bells and whistles in iPhoto '09 and iMovie '09 (the page is called ' iLife '09 Guided Tours' and only those two apps are showcased, but perhaps more will be added with time.).
The great thing about these guided tours is that they really give you a feel for the new features; after all, if you're planning on plunking down your hard-earned cash you want to make sure it's worth it.
You can either stream the guided tours or download them for watching later (perhaps on your iPhone or Apple TV with a glass of your favorite beverage, sitting next to a crackling fire with your trusty dog curled up at your feet?). No matter how you watch them, you're sure to have a better idea if you want to preorder your copy of the software now.