My favorite thing about Macworld Expo is stumbling across cool little products from companies I've never heard of. If my first foray onto the show floor is an indication of what Expo has in store for me I'm pretty excited.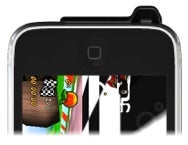 Walking down one of the less trafficked pathways on the show floor I came across Ten One Design's booth. The company just launched a nifty little thing called the SoundClip, which it bills as a "passive sound enhancer for iPhone 3G."
Or to put it another way: SoundClip is a little bit of plastic that clips onto the dock connector and funnels the sound from the bottom-facing speakers of the iPhone toward you.
Ten One claims you'll get a 10dB gain for sounds between 5kHz and 20kHz. I don't know about that, but if it enhances my gaming experience with Rolando, this add-on is well worth the $8 price tag. (And if you're on the Expo showfloor, you can pick one up at the discounted rate of $5.)
Note: When you purchase something after clicking links in our articles, we may earn a small commission. Read our affiliate link policy for more details.