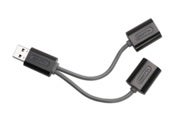 You never know what's going to catch your eye as you pound the Macworld Expo show floor. I was hurriedly making my way through Griffin's big booth when I saw something that intrigued me. The SmartShare USB is a clever little USB hub that was designed with the MacBook Air in mind. Plug it into any available USB 2.0 port and now you magically have two USB 2.0 ports where you previously had one. Magic!
The SmartShare USB costs $19.95, but if you're anything like me, you're always in need of just one more USB port when you're traveling: Somehow I almost always manage to bring along n + 1 gadgets on a trip with me, where n is the number of USB ports on my MacBook Pro, and of course they all charge via USB. Murphy's Law of USB peripherals, I guess.
Note: When you purchase something after clicking links in our articles, we may earn a small commission. Read our affiliate link policy for more details.