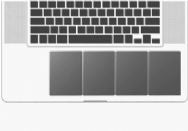 Every time Apple introduces a product with an non user-replaceable battery, there's inevitably criticism from those who love their user-swappable batteries. But apparently when you're being promised eight frickin' hours of usage on a single full charge and five years of life for a single battery, such concerns fall by the wayside.
But should you need to get the battery replaced on a 17-inch MacBook Pro, all you need is an Apple Store in your vicinity and $179 in your pocket. According to Wilson Rothman of Gizmodo, who asked an Apple spokesperson on the show floor, Apple will replace your MacBook Pro's battery for you and safely discharge the one you're replacing, all for the aforementioned price.
But then again, if the MacBook Pro's battery really does provide eight hours on a single charge and has a thousand such recharge cycles, I guess it'll be plenty of time before you'll have to worry about that replacement part. Anyway, if you were wondering how much more you might have to spend on your MacBook Pro after it had been used by several future generations of your family, you now know.