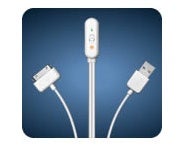 Technology, at its best, saves us from doing stupid things. You know, the kind of thing that, immediately after you do it, you think, 'I really shouldn't have done that.' If you've ever connected your iPod or iPhone to someone else's Mac to charge it, you have an idea of what I am talking about. iTunes, being the helpful little syncing agent that it is, will ask if you want to sync your iPod to this strange other person's iTunes library. If you aren't paying attention, and just blithely click OK, then all you can do is watch in horror as your iPod is filled with someone else's music (which, of course, isn't nearly as good as your music).
Enter Matias's Tune Blocker, which was announced at Macworld Expo and available for pre-order today (it'll be shipping in March). It offers up a way to charge your iPod on any old computer without fear. Tune Blocker is a USB to Dock connector cable that has a special switch: In one position, it'll act like any old iPod cable, syncing all your data in the most helpful way possible. But the magic happens when you flip the switch on Tune Blocker to "charge only." This disables the syncing functionality and simply charges your iPod/iPhone via USB. No syncing, no potential-iPod-erasing, and no one else's music harshing your buzz.
Tune Blocker will be available in March and it comes in two versions: one with a 3 foot cable for $24.95 and a 6 foot version for $29.95.