Newer Technology debuted the NewerTech Voyager Q Hard Drive Docking Solution Tuesday at Macworld Expo. The Voyager Q turns any 2.5-inch or 3.5-inch Serial ATA (SATA) hard drive into a fully bootable and hot-swappable external drive and features four interfaces: FireWire 800, FireWire 400, USB 2.0, and eSATA.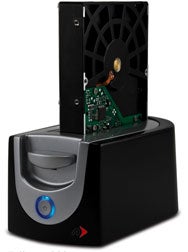 If that sounds like an already-available, that's because NewerTech had previously offered a Voyager hard drive dock. The interior of the new Voyager Q is essentially the same, a NewerTech spokeswoman said. The difference between the two is the product's housing—the Voyage Q adds an eject level for safe hard drive removal. An upgraded LED display now shows a blue light to indicate that the power is on and a flashing red light when there's disk activity.
Sporting data transfer speeds of up to 300MB/s, Voyager Q also promises ease of use when it comes to swapping out hard drives.
The NewerTech Voyager Q costs $100; it's available now from NewerTech's exclusive distributor, Other World Computing as well as through other retailers. The Voyager Q includes all supported interface connector cables, an auto-switching power supply for worldwide compatibility, and a one-year warranty.