Kensington announced a number of new accessories for desktops, laptops, iPods, and iPhones Tuesday to coincide with Macworld Expo as well as the Consumer Electronics Show.
The company has a Play it product line that targets mobile devices, including Apple's iPod and iPhone offerings. The Play it line includes a new $25 Auxiliary Dock for third- and fourth-generation iPod nanos and a $120 Hands-Free Visor Car Kit that works with the iPhone as well as other Bluetooth phones.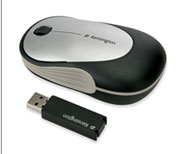 Besides the SlimBlade Trackball for Macs introduced on Tuesday, Kensington also unveiled a pair of mice for its Control it line aimed at mobile users. The SlimBlade Mouse with Nano Receiver is a $40 input device that features a four-way tilt scroll wheel and works on multiple surfaces while the $30 Ci10 Fit Wireless Notebook Laser Mouse features rubberized grips and a laser sensor control. For desktop users, the Control it line also features the Ci70 Photo Sync Desktop Set, a $70 mouse-and-keyboard combo that features a wireless laser mouse.
On the power front, Kensington's Power it line adds the $25 Rechargeable Pocket Booster for Mobile Phones, which extends talk time by up to three hours for mobile phones as well as powering other devices via two rechargeable AAA batteries.
Finally, Kensington's Carry it line adds two new sleeves and a new case to its collection of computer cases, including a sleeve that should fit most 17-inch notebooks, the $20 SP17 17-inch Classic Sleeve.