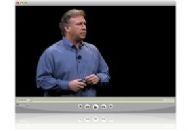 As we reported yesterday, Apple put up a standard quality streaming version of the keynote on their website within a few hours of the keynote's conclusion. Since then, they've also added the ability to stream the entire keynote in high definition for those who need to see every line and pore on Phil's handsome visage. If you were experiencing jerky playback yesterday, it might be a good idea to try again now.
Alternatively, you could just skip the whole streaming thing and download the 393MB keynote video straight from the iTunes Store, free of cost. As usual, it's been added to the store as another episode of the Apple Keynotes podcast and is only available in standard definition. That's weird though, isn't it? You'd think HD video would be more download-friendly than streaming-friendly. Maybe Apple has decided that the future of digital video is streaming after all.
Note: When you purchase something after clicking links in our articles, we may earn a small commission. Read our affiliate link policy for more details.