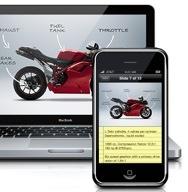 Have you been jonesing for Apple's new Keynote Remote app for the iPhone? Jones no more, friend, because Keynote Remote [iTunes link] is now available for purchase from the App Store. For the low, low (did we mention low?) price of $0.99 you can control a Keynote Presentation from an iPhone or iPod Touch (as long as both your iPhone and Mac are on the same WiFi network).
Setup for Keynote Remote works much like the Apple Remote app for iTunes and Apple TV. Once you enable Keynote to search for iPhone/iPod touch remotes—you do this by going into Keynote > Preferences > Remote and clicking "Enable"—Keynote will present a list of all devices on the network with Keynote Remote running. You then enter a passcode, displayed on the iPhone or iPod touch, and your the Remote app is now inextricably linked to your copy of Keynote '09. You can now navigate your presentation from across the room like some sort of Keynote wizard from the future.
As Phil showed off during the demo, the app operates in both landscape and portrait modes: if you view in the vertical orientation, the app will show your presenter notes at the bottom; in horizontal orientation, you can see the current slide and the next slide.