We just had a little hands-on time with Apple's new 17-inch MacBook Pro on the Macworld Expo show floor. Our hands-on experience included both the glossy and matte variants, and I'm here to give you all the gritty details.
Basically, the 17-inch laptop introduced by Apple on Tuesday is just a slightly larger version of the 15-inch MacBook Pro; frankly, you'd be hard pressed to tell them apart if they weren't placed right next to each other.
The huge 17-inch screen is absolutely gorgeous, of course, and the 1920×1200 resolution is stunning. As usual, the brightness is almost too much when cranked up to the maximum, where it washes out pretty much any reflections on the glossy display. It sure was a significant difference from the 1680×1050 screen on my 17-inch Core Duo MacBook Pro.
The matte finish, though not as rich-looking as the glossy, certainly was less taxing on the eye. There's no glare and no reflections to distract you, even on the brightly-lit show floor, and it means you don't have to use the screen's ultra-brightness as an anti-glare shield, itself not very healthy for your eyes.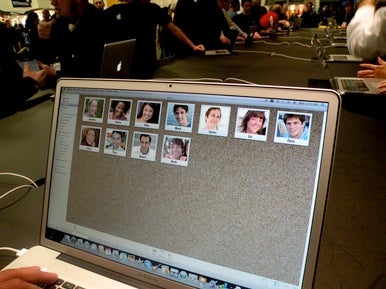 One thing I noted with the matte version was that it looked that the glass covering had actually been stripped off after the whole notebook construction, giving it an odd look when compared when the glossy version. That's not how it's actually done, but to me it gives it an unfinished appearance. Personally, I feel like the TechRestore guys do a better job with their matte treatment than Apple did.
The rest of the new MacBook Pro is pretty standard—it's very thin (so much, in fact, that it makes you wonder how it could possibly contain all those features), less heavy than you'd expect a 17-inch notebook to be, has all the ports on the left (which I'm not convinced is a good thing), the SuperDrive, and security lock on the right, the speakers on the sides of the black backlit keyboard, and the sleep light on the front.
Also, according to the Apple spokesperson on the show floor—and contrary to what some of the commentators have been saying—you can indeed replace the hard drive and memory on it yourself, even though the battery isn't user-replaceable. Since the bottom of the case is screwed shut, you'll have to unscrew eight screws and remove the entire panel before you can get to the hard drive and memory. Although that does mean that replacing the hard drive is more complicated than on the MacBooks and 15-inch MacBook Pros, upgrading the memory is pretty much the same procedure on all these products.