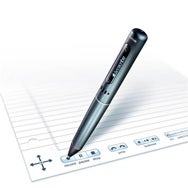 Livescribe has announced the forthcoming release of Livescribe Desktop software for the Mac, companion software intended for use with its Pulse Smartpen. The fee software for Pulse customers is planned for general distribution beginning on February 17, 2009. This will mark the general release of the software, following a public beta test that began in November.
The Pulse captures your handwriting and records audio, synchronizing the audio content with what you're writing. This helps users make sure that they don't miss anything when they're taking notes. You can then tap on the notes you've written to replay what was recorded when you were writing.
The Livescribe Desktop software lets you transfer notes and audio recordings to your Mac, where yo can then search through and share them. The Mac version of the Desktop software employs some Mac-only features, such as the ability to export and share notes as PDF files. You can export audio files in AAC format so you can play them back using iTunes, and you can also change the on-screen ink color of your digital notes.
The Pulse Smartpen hardware is available in two models: a $149 1GB version that stores more than 100 hours of recorded audio, and a $199 2GB model.