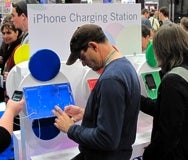 One of the hardest things about having a booth at Macworld Expo is getting people to actually check out your booth. You need to get people in there, and have them stand around for a few minutes so you can leap on them and make sure they will never forget your products. Ever. Google's solution to that problem is to have an 'iPhone Charging Station.'
The station, which you can see here, is basically a stand with a few iPhone charging cables dangling out of it and a cubby for you to rest your iPhone. As you're waiting for your iPhone to charge (and don't expect your iPhone to last the entire day at Macworld Expo—ha ha!) you are free to take in all the goodies that Google has to offer. A brilliant marketing idea and useful to boot.
Note: When you purchase something after clicking links in our articles, we may earn a small commission. Read our affiliate link policy for more details.