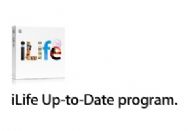 Figuring that no new MacBooks would be released at this year's Macworld Expo (since they were released just three months ago), I went ahead and purchased a new MacBook on January 5th. I was kinda expecting them to release an iLife '09 update but since I needed a new Mac urgently, I just went ahead and handed them the cash (or credit card anyway).
Of course, they did announce iLife '09 and apparently it is pretty awesome. What you may not know about it, however, is that they do have a special upgrade plan for people who bought it just on the day of the keynote or later. If you bought a Mac on January 6th or intend to buy one before iLife '09 is released in "late January," you can upgrade to it by paying just $9.95 + tax.
I bought it a day earlier than that though, so I guess I'm left out in the cold of iLife '08. Meanwhile, if you were wondering whether you should wait to buy a Mac until the end of January and get iLife '09 along with it when you do, this offer should solve your dilemma.