Accessory maker Griffin Technology is a mainstay of Macworld Expo—once again, the company has a sizable both on the Moscone Center show floor—which makes the annual Mac trade show a perfect time to make new product announcements. This year is no exception with Griffin announcing a number of new products. Here are the ones that caught my eye.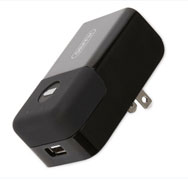 The PowerBlock Reserve has a lot in common with the standard iPod or iPhone charger that comes bundled with the hardware. It plugs into a wall outlet, and provides 5 volts of juice over a standard connector cable. However, that's where the similarities end. In addition to charging your iPod or iPhone, the $40 AC charger and rechargeable backup battery also charges an auxiliary battery, which can be detached from the charger itself, and used to power any of the aforementioned items in case of emergency (or battery death).
Much like the PowerBlock, the PowerJolt Reserve charges an iPod or iPhone, but instead of using a standard wall outlet, the PowerJolt plugs into the 12V DC cigarette lighter port in your car, where it can provide on-the-go juice for your iPod or iPhone. Much like the PowerBlock Reserve, the $40 PowerJolt also has a removable battery pack that can be used to power the iPod or iPhone when you're not near a car.
The SmartShare USB is designed to provide an ultra-slim, ultra-flexible alternative to a usually clunky technology: the USB hub. These hubs, usually boxy and bulky, are very inconvenient for those with slim form factor laptops like the MacBook Air. The $20 SmartShare USB solves this problem by acting like a headphone splitter for your USB devices, turning one USB port into two with ease.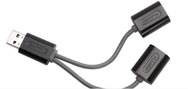 The SmartShare USB is shipping now. Look for the PowerBlock Reserve and PowerJolt Reserve in April 2009.