Accessory maker Griffin Technology is a mainstay of Macworld Expo—once again, the company has a sizable both on the Moscone Center show floor—which makes the annual Mac trade show a perfect time to make new product announcements. This year is no exception with Griffin announcing a number of new products. Here are the ones that caught my eye.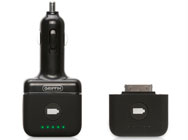 Much like the PowerBlock, the PowerJolt Reserve charges an iPod or iPhone, but instead of using a standard wall outlet, the PowerJolt plugs into the 12V DC cigarette lighter port in your car, where it can provide on-the-go juice for your iPod or iPhone. Much like the PowerBlock Reserve, the $40 PowerJolt also has a removable battery pack that can be used to power the iPod or iPhone when you're not near a car.
The SmartShare USB is designed to provide an ultra-slim, ultra-flexible alternative to a usually clunky technology: the USB hub. These hubs, usually boxy and bulky, are very inconvenient for those with slim form factor laptops like the MacBook Air. The $20 SmartShare USB solves this problem by acting like a headphone splitter for your USB devices, turning one USB port into two with ease.
Note: When you purchase something after clicking links in our articles, we may earn a small commission. Read our affiliate link policy for more details.