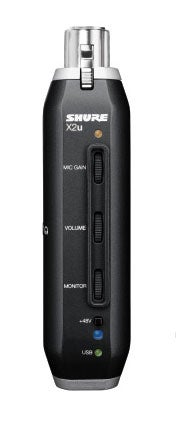 Exhibiting at both Macworld Expo and the Consumer Electronics Show this week, Shure announced new products that bring professional quality audio capability to everyday Mac users. Particularly intriguing is the Shure X2u. It is a small module that connects straight to the XLR cables used by most professional audio microphones, and then connects to your Mac using a provided USB cable. There is also a headphone jack on the side of the unit which you can plug into to hear the X2u's output.
I managed to get some hands-on time with the X2u on the floor at Macworld Expo Wednesday, and it seems like a dream come true. The unit itself is petite, without being underwhelming. Dominating the front of the X2u are three dials, one for gain, one for headphone volume, and one that controls the monitor mix through the headphone jack on the side of the unit.
In addition to the adjustability of the X2u, it also can provide 48V phantom power for condenser microphones that require additional power to run, without using an additional power supply. The indicator light at the top of the unit is a tri-color LED, which blinks different colors to let you know if you are overloading the microphone. There are also velcro straps in the back of the unit which allows you to tie it to a microphone stand or cable.
The X2u should be available from Shure in Spring 2009. No price has been announced.