Hewlett-Packard is making some noise at Macworld Expo with a large booth on the show floor and even larger product news.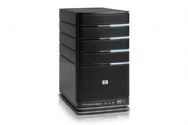 HP's Rick Spillers showed the depth of HP's commitment to the Mac in product after product showcased in the HP booth. One of the coolest new products from HP is the $600 HP MediaSmart Server EX485, a four-drive bay, network-attached device which requires Windows for the initial setup, but is meant to work in a cross-platform environment, backing up both Mac and PCs. It includes a built-in iTunes server, support for some of Leopard's Time Machine features, and photo-sharing services with easy uploads to sites such as Facebook and Picassa. It ships with one 750GB hard drive and three empty bays. (The HP MediaSmart Server took home a best of show award, in fact.)
HP also showed off its new free iPhone application, iPrint Photos, that allows you to print 4-by-6 photos from your iPhone to just about any HP inkjet available on a wifi network. It's a pretty cool app, and the company is having a contest for those who stop by and give it a try.