The Thermapak Heatshift Laptop Cooling Pad from ThermaPAK Technologies has a humble—but practical—goal: keep your laptop cool.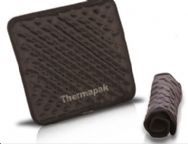 A soft, thin foam pad that fits under your notebook like a pillow, the Thermapak comes equipped with "HeatShift Technology" that its exhibitors at Macworld Expo claim will help dissipate heat from your laptop.
I was skeptical myself until I tried touching the pad. In seconds, the pad turned from room temperature to cool. The device lacks an external power source or batteries, working instead by utilizing a solid substance that "turns into a liquid" as it cools. Even while in a liquid state, the Thermapak will continue to cool the unit, and when the computer is not being used, the substance turns solid again.
Easy to use and plenty portable, this is one of the simplest but most effective devices I saw at Expo this year. The pad ranges in size from 13-inches to 17-inches with prices ranging from $28 to $35.