Editor's Note: Our sisiter publication, PC World is at the Consumer Electronics Show in Vegas. Stop by their CES Topic Center for all the tech news coming out of that show.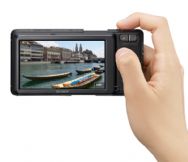 Released last year, the Sony Cyber-shot DSC-T700 was the first digital camera to offer an on-board 4GB flash drive. With the announcement of the Sony Cyber-shot DSC-G3 at the Consumer Electronics Show in Las Vegas, the company has augmented the T700's integrated storage and basic specs with Wi-Fi capabilities and one-click access to photo-sharing sites.
Like the T700, the 10.1-megapixel, 4X-optical-zoom Cyber-shot DSC-G3 will have a high-resolution touch screen that measures 3.5 inches diagonally, as well as 4GB of flash storage in addition to a Memory Stick slot. But the G3 also adds some new tricks to the mix, namely 802.11g Wi-Fi connectivity and integrated, one-click uploads to sharing sites such as Dailymotion, Picasa, Shutterfly, and YouTube. Sony says that other photo- and video-sharing sites are accessible via the G3's Web browser, and the company is open to creating more one-click-upload partnerships in the future.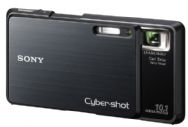 In addition to the mobile-upload capabilities, the G3 will have in-camera editing features that make the most of its huge LCD touch screen and 4GB flash storage, such as the ability to add your own digital tunes to the camera to create slide shows accompanied by music.
With a nice megapixel count, a slick and slim frame, a huge touch screen, Wi-Fi connectivity, and multimedia-playback capabilities, the G3 looks like an interesting rival, of sorts, to the iPod Touch and the iPhone. It's definitely pricey, at $500 for a 4GB camera, but it just might be the missing link for photo-happy gadget lovers who want a camera offering the kind of fun multimedia mayhem that Apple's portable devices are known for.
For more product news, read our complete coverage of CES 2009.