NCsoft on Thursday announced that City of Heroes for the Mac is making its official debut. This marks the end of the Mac version's public beta test, which began last month.
City of Heroes is a massively multiplayer online game featuring costumed superheroes and supervillians. You can create your own character, choosing from a multitude of abilities and costumes, then emerge into the world of Paragon City and the Rogue Isles, either to fight for the forces of justice or evil.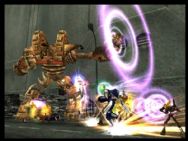 City of Heroes for the Mac was developed by TransGaming, makers of Cider technology, which has been employed by EA, Ubisoft, CCP Games and others to make games originally developed for Windows to run on Intel-based Macs.
The Mac Special Edition of City of Heroes is available for download and purchase for $19.99 from NCsoft's own PlayNC store and TransGaming's GameTreeOnline service. The Mac Special Edition includes the Mac client, thirty days of play time and a set of exclusive in-game items—Mission Teleporter Power and an exclusive Valkyrie Costume Set.
City of Heroes is rated T for Teen by the ESRB.
System requirements call for an Intel-equipped Mac with Mac OS X 10.5.5 or later, 1024MB RAM, ATI X1600, Nvidia 7300 GT or Intel X3100 integrated graphics or better (GMA950 not supported), and 2.9GB hard disk space.