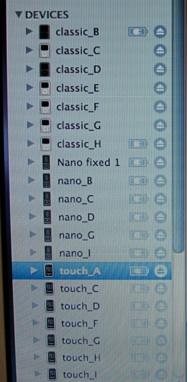 Most people I know seem to have more than one iPod: A nano for the gym, one 3rd generation iPod that was replaced by a new iPod Classic…pretty soon you have more iPods than family members. With multiple iPods come a tangle of wires for syncing and charging, but your Mac only has so many ports. What is an iPod collector to do?
Enter the Parasync by Parat Solutions. This sleek unit will charge up to 15 iPods (iPod classics, touches, and nanos only) at the same time. The coolest part, though, is that lone USB cable that dangles out of the Parasync. Plug that into your Mac and suddenly you have 15 iPods in your iTunes' sidebar (as seen to the left). All those iPods have to be registered with that iTunes library to sync, but as you know iTunes will sync with an unlimited number of iPods.
I should point out, of course, that Parat Solutions isn't targeting consumers with the Parasync. These units are designed to help museums and schools load up multiple iPods with the same content for classes and tours. However, there's nothing to stop you from picking up a couple of these things and 30 iPods, giving you pretty much enough iPods with custom playlists for each day of the month.
You need to request a quote to get pricing for the Parasync (which usually means it is pricey), but given their target market, that isn't a shock.